Dental Digital Imaging in West Orange, NJ
Also Treating Families in Short Hills and Livingston Patients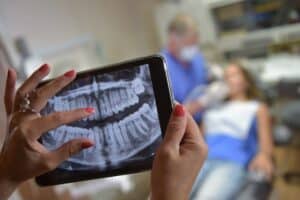 Radiographs (X-rays) play a critical role in diagnosing oral health problems, which is why Northfield Dental Group is committed to providing the most advanced digital imaging technology to our patients. Although it is significantly more expensive to operate digital imaging equipment, our team feels that taking on these extra costs is worth the superior care we can offer to patients like you. Digital images make it easier to study your entire mouth and even enhance certain areas for a closer inspection. Traditional X-rays do not always pick up on some of the smaller signs of decay that digital imaging can.
If you want to be sure that you are teeth and bones receive a thorough examination from the safest equipment available, please visit our team in West Orange, New Jersey.
Improved Safety
Digital imaging is much safer than alternative methods. It requires up to 80% less radiation than traditional X-rays. While our dentists have always prioritized limiting your exposure to radiation no matter the equipment, it is certainly a benefit to have levels that are low enough to not pose a risk for health problems.
Additionally, digital imaging is better for the environment. Since chemicals are needed to dispose of X-ray film, using digital images avoids this problem altogether.
Other Benefits of Digital Imaging
Here are a few other ways that patients can benefit from digital imaging:
Radiographs provide clear pictures of parts of your mouth that your dentist cannot see with his or her eyes so that you can receive complete care. These images also help to detect problems sooner than what is discernible with the naked eye.
Because digital images are stored on our computers, they are easy to pull up for future reference. This makes it easy for your dentist to check whether decay is progressing or if a treatment has improved the health of your mouth.
Digital images are easily and quickly sent to your insurance company to prove that certain procedures are necessary, which should expedite your approval for coverage and reimbursement. If necessary, they can also be sent immediately to other specialists as a digital file.
Types of Digital Imaging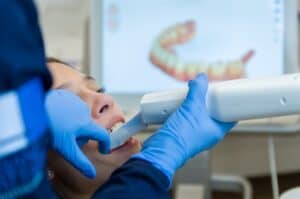 All dental radiographs fit into two larger categories: intraoral and extraoral. Intraoral images are taken from inside your mouth to best capture the health and development of teeth and bones. Extraoral images are taken outside your mouth. While that makes the images less detailed, it is the preferred method for assessing the jawbone (and TMJ) and teeth that are impacted (stuck beneath the jawbone).
Digital Imaging Costs
Because X-rays and digital imaging are considered a standard part of contemporary dental care, they are covered (at least in part) by most dental insurance plans. The team at Northfield Dental Group can help to confirm what you are entitled to.
Make an Appointment
Digital imaging is recommended every two years for patients with strong oral health and about once per year for patients who have (or may have) infection/decay. If it has been a while since you last had digital images taken of your mouth, please call (973) 736-0111 to make an appointment with our team of top dentists — Dr. Ivan Stein, Dr. Derek Widmayer, Dr. Jeffrey Shapiro, Dr. Alexandra Unger, Dr. Jonathan Mendia and Dr. Allan Stein — for a complete dental cleaning and examination.