Invisalign in West Orange, NJ
Also Treating Short Hills and Livingston Patients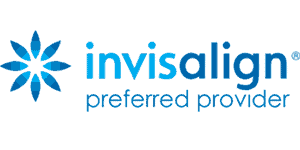 In the past, if you wanted to straighten your crooked teeth, you had to tolerate wearing a mouthful of metal braces for many months or possibly years. Also, as anyone who has had to put up with traditional orthodontic methods knows, straightening crooked teeth with the use of conventional metal braces can take a toll on a person's confidence level. These days, however, the dentists at Northfield Dental Group are able to offer patients in Short Hills, Livingston and West Orange treatment with invisalign to straighten misaligned teeth.
Invisalign is an orthodontic treatment that moves crooked or misaligned teeth gradually into the desired position. The best part about the Invisalign teeth-straightening system is it is very inconspicuous, so individuals can smile confidently, even during treatment.
More About Invisalign
Before starting treatment, Dr. Ivan Stein, Dr. Derek Widmayer, Dr. Jeffrey Shapiro, Dr. Jonathan Mendina or Dr. Allan Stein takes X-rays, photos and an impression of your teeth, which he relays to the dental lab that crafts the retainers. The technician uses your information to generate a 3D digital image of your teeth as well as to create your custom-made retainers.
Your cosmetic dentist is able to access the 3D illustration to help develop your unique treatment plan. He can also use the illustration to generate a digital simulation of how your teeth will move into place over time.
Once you get your retainers, you should wear the first one(s) for 22 hours each day, taking them out only to eat or to brush and floss your teeth. You should keep the retainers in while drinking — just be sure to stick to cool or lukewarm liquids that are light in color. Drinking hot liquids while wearing your retainers can warp them, and drinking dark-colored liquids can stain them.
You will visit Northfield Dental Group every six weeks, so your cosmetic dentist can monitor your progress and give you any new retainers.
The total duration of your treatment depends on several factors, including how crooked your teeth are when you start treatment. Nonetheless, adults are generally able to straighten their teeth with invisalign in about one year. For adolescent patients, the total treatment time is similar to the treatment time associated with traditional metal braces.
Advantages of Invisalign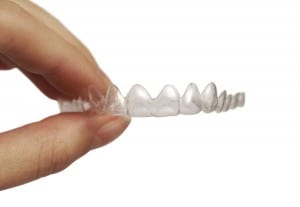 Besides the obvious advantage of being able to straighten your teeth nearly invisibly, the teeth-straightening system also makes eating easier. Because you simply remove the retainers while you eat, you do not have to worry about food getting stuck in the brackets. After you are finished eating, you should rinse out your mouth, wash the retainers and then pop them back into place.
Another advantage of invisalign is that they are BPA-free. Also, they do not usually irritate the cheeks or gums the way that traditional metal braces often do.
With invisalign, you get all the benefits of metal braces, without the hassle.
At-Home Care
To keep your Invisalign retainers clean and in good shape, brush them each time you remove them, using cool water and toothpaste. Again, do not use hot water to clean your retainers, as it can warp the plastic. You should also avoid wrapping your retainers in paper towels or tissues, as they may get thrown in the garbage by accident. Continue to practice good oral hygiene; simply remove your retainers while you brush and floss your teeth, and click them back in when you are finished.
Invisalign FAQs
How does Invisalign® differ from traditional braces?
The social awkwardness of gleaming silver braces was a rite of passage for many teens. Using advanced technology, Invisalign has changed all of that for patients of any age. The metalwork of the last century has been replaced by clear Invisalign aligners that can be removed quickly for eating and social occasions. Each aligner is made of clear plastic and is custom made to gradually move crooked teeth into place. Computer-assisted design makes it possible for a comfortable, nearly invisible retainer to do the work of the old metal-plus-bonding-cement approach, and do it more quickly.
How long will it take?
Invisalign requires a very modest investment of time. You will replace your current aligner with a new one every few weeks, for a course of treatment that normally lasts approximately 12-18 months. You will come in for an appointment with our team every four to six weeks.
Is a plastic aligner sufficient for all cases?
After your dentist evaluates your teeth and plots their future trajectory, it may become necessary to add SmartForce® attachments to your treatment plan. These small, tooth-colored attachments give the aligner additional surface area to grip onto, for more complex cases. These white attachments blend with the color of your teeth, and will not affect the comfort of the Invisalign aligners. Once you have reached the beautiful smile the skilled West Orange cosmetic dentistry specialists of Northfield Dental Group have planned for you, it may also be necessary to wear a retainer to keep teeth from shifting. Like Invisalign, many new retainers are made of plastic and are barely noticeable.
Does Invisalign have a record of success?
To date more than 7 million patients have benefited from Invisalign orthodontic treatments. This number includes millions of adults who just didn't want to flash the silver retro look from the 70s when they smile at the office, and many teens who were happy that advanced Invisalign technology added new confidence to their high school years.
Determine If Treatment Is Right for You
If you are interested in straightening your teeth, schedule an appointment with one of the dentists at Northfield Dental Group. Your dentist will examine your oral health and review your objectives for treatment to determine if it is right for you.
Contact us now to schedule an appointment with a periodontal dentist at our West Orange office, a quick drive from Short Hills and Livingston.