Teeth Whitening in West Orange, NJ
Also Treating Short Hills and Livingston Patients
Do you enjoy drinking tea, coffee, darkly colored soda or red wine, but do not enjoy the way these beverages stain your teeth? Yes? You are not the first person to feel this way!
Thankfully, Northfield Dental Group offers patients in West Orange, Livingston and Short Hills teeth whitening treatment to improve the look of stained, discolored or dingy teeth. Our in-office, one-hour teeth whitening treatment can help lighten your teeth, so they are up to eight shades lighter!
How It Works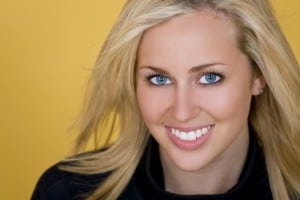 Our teeth whitening treatment is designed to lighten the stains on the tooth enamel and the underlying dentin, without damaging the overall tooth structure. During treatment, your cosmetic dentist applies a special gel onto the surface of your teeth. The active ingredient in the gel is hydrogen peroxide. The dentist then applies a special light to your treated teeth, which causes the hydrogen peroxide in the gel to break down, meanwhile releasing oxygen molecules. The oxygen molecules lighten pesky discolorations by penetrating the stains on the tooth enamel and dentin. And voilà: lighter, brighter teeth!
The Teeth Whitening Treatment
Before starting the teeth whitening treatment, the dentist examines your teeth and gums to make sure they are healthy. He also discusses your aesthetic objectives, oral hygiene habits and lifestyle mode to establish if in-office teeth whitening treatment is appropriate for you. For optimum results, your dentist may recommend that you undergo a complete teeth cleaning prior to your teeth whitening treatment.
The teeth whitening procedure takes approximately one hour. Your dentist first prepares the treatment area by placing a cover over your lips and gums, leaving your teeth exposed. Next, he applies the hydrogen-peroxide gel to your teeth. You can relax while the chair-side lamp works its magic, activating the hydrogen peroxide and thus releasing the oxygen molecules, so they can penetrate stains.
A new layer of the teeth whitening gel is applied to your teeth every 15 minutes, for the duration of the procedure. Once the treatment is complete, fluoride gel is applied to your teeth to help reduce sensitivity. You will receive an at-home touch-up kit as well as instructions regarding how to care for your lighter, brighter teeth.
Suitable Candidates for Teeth Whitening
Although teeth whitening treatment effectively lightens and brightens stained, discolored teeth, it may not be an appropriate treatment option for everyone. Women who are pregnant or nursing and children less than 16 years old are not suitable candidates for teeth whitening. In addition, patients with extremely sensitive teeth or extensive dental veneer work may not be appropriate teeth whitening candidates.
Find Out If You Can Benefit From Teeth Whitening
If you long for a lighter, brighter smile, do not hesitate to find out more about undergoing teeth whitening in West Orange with one of our experienced cosmetic dentists. In as little as an hour, you can get whiter teeth and a more dazzling smile.
To schedule an appointment with one of our cosmetic dentists to find out if you can benefit from teeth whitening treatment, please contact the Northfield Dental Group staff by calling (973) 736-0111 today.