Sedation Dentistry in West Orange, New Jersey
Also Serving Short Hills and Livingston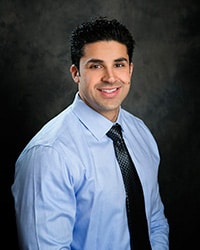 At Northfield Dental Group, we see many patients who suffer anxiety at just the thought of visiting the dentist! These patients often skip their scheduled dentist appointments, sacrificing vital dental care and risking their oral health due to their deep-rooted fear of experiencing pain or discomfort.
If you can relate to these sentiments, do not let your anxiety take over — do not stop seeing the dentist for your check-ups and cleanings. Instead, visit Northfield Dental Group, where Dr. Jonathan Mendia offers a variety of sedation dentistry options. Dr. Mendia is committed to helping patients like you overcome their fear of the dentist, so they can maintain a healthy, beautiful smile.
Appropriate Candidates for Sedation Dentistry
If you avoid visiting your dentist due to extreme anxiety or phobia, you might benefit from sedation dentistry. Even patients who feel mildly anxious when going to the dentist may benefit from certain forms of sedation. Generally speaking, appropriate candidates for sedation dentistry include individuals who:
Have a phobia of needles or other dental instruments
Have a fear of experiencing pain
Have a fear of the unknown
Have previously had a bad experience with a different dentist
Suffer from anxiety in general
Have a hard time controlling the gag reflex
Are undergoing multiple dental treatments during a single visit
To help patients overcome these issues, Dr. Jonathan Mendia provides the following sedation approaches, when needed.
Nitrous Oxide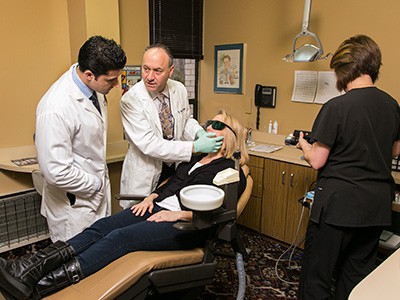 Nitrous oxide, also known as "laughing gas," is a form of conscious sedation. Administered via a nose mask, nitrous oxide is beneficial for patients who experience mild to moderate anxiety while visiting the dentist. An advantage of this type of sedation is that your dentist can control how much nitrous oxide you receive. Also, the effects wear off quickly so you can drive home after your treatment.
Oral Sedation
Oral sedation involves the use of an oral sedative medication that patients take about a half hour before their dental appointment, allowing time for the medication to take effect. Oral sedation is often a good option for individuals who suffer from mild to moderate anxiety when visiting the dentist. It is also a good option for patients who are afraid of needles, because the sedative is not administered via injection. Although oral sedation is a conscious form of sedation, patients may not have much recollection of their dental treatment; they may feel as though they slept through the procedure.
More About Sedation Dentistry
Sedation dentistry helps patients who are afraid of the dentist receive the critical dental care they need to maintain good oral health, without suffering from anxiety. However, only a licensed professional such as Dr. Mendia should perform sedation techniques. He is specially trained to deliver all forms of dental sedation, and is happy to answer any questions you may have about your sedation options. Our entire team strives to ensure our patients' experience at the dentist is a positive one!
Don't Miss Out on Receiving Essential Dental Care
Don't let your anxiety or phobia of the dentist stop you from getting necessary dental care. If you put off getting routine dental care now, chances are, you will need more extensive dental work down the line.
To schedule an appointment with one of our caring dentists to find out if sedation dentistry can help you get the vital dental care you need, please contact Northfield Dental Group by calling today.