Family Dentistry in West Orange, New Jersey
Also Treating Families in Short Hills and Livingston Patients
It is a common misconception that children do not need to visit the dentist until all their "baby" teeth have fallen out and their adult teeth have come in. Regular dental check-ups and cleanings are as essential for children as they are for adults.
Practicing proper oral hygiene habits at home helps kids build a solid foundation for good oral health, now and in the long term. Nonetheless, it is only a single part of the equation. Children have specific therapeutic and preventative dental needs that only an experienced dentist such as the ones at Northfield Dental Group can address. Our patient West Orange pediatric dentists, Drs. Stein, Widmayer, Shapiro, Mendina and Stein, understand kids' oral health needs and can provide the vital pediatric dental care that all children require.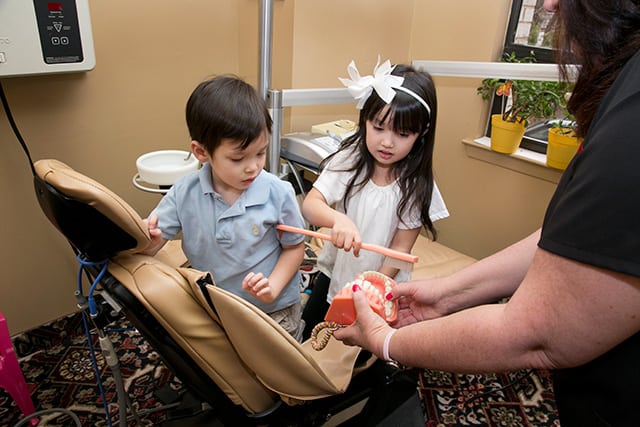 Why Children Should Visit the Dentist
The American Academy of Pediatric Dentistry (AAPD) suggests that children begin visiting the dentist as soon as they get their first tooth, and no later than their first birthday.
Visiting the pediatric dentist every six months for routine dental check-ups and regular cleanings allows the pediatric dentist to monitor the health of kids' teeth and gums. The pediatric dentist also performs gentle cleanings. Your child's dentist can provide fluoride treatments and apply sealants to help prevent cavities and other oral health problems before they occur.
Fluoride Treatment
Fluoride is a mineral that helps prevent tooth decay. Unfortunately, some children do not receive an adequate amount of fluoride, even though it can be found in sources such as tap water, infant formulas and toothpaste, among others.
For children who are not getting a sufficient amount of fluoride in their everyday life, the pediatric dentist can provide fluoride treatment. With fluoride treatment, the dentist coats the teeth with the mineral, safeguarding the teeth against damaging acids and, thus, tooth decay. Fluoride treatment is available in a variety of flavors; kids can choose the one they like the most.
Sealants
Sealants are designed to fill in the small crevices that some children have on the chewing surfaces of their teeth. Sealants, which are small pieces of plastic, prevent food particles from becoming lodged in the small cracks or gaps in teeth, thereby helping to prevent cavities.
Helping Your Children Care for Their Teeth at Home
The following are three things you can do at home to help your child cultivate good oral hygiene practices early on:
Help children brush their teeth. The AAPD suggests that, starting at birth, parents use a cloth and water (or an infant toothbrush) to clean their kids' gums. Once your child's first tooth comes in, use an infant toothbrush that is designed to protect infants' sensitive gums or a soft-bristled toothbrush with a small head to brush the tooth at least once a day, before bed. Kids less than 2 years old need only a small smear of toothpaste while kids between the ages of 2 and 5 need only a pea-sized amount of toothpaste.
Ensure your child is flossing properly and routinely. Flossing between the teeth helps remove any particles of food that are stuck between or around the teeth; it also helps prevent plaque from building up.
Encourage your children to wear a mouth guard when needed. If your child plays a contact sport, he or she should use a custom-fitted mouth guard to protect against sports-related injuries that can often damage the teeth, gums, cheeks and lips.
Family Dentistry FAQs
What does family dentistry mean?
The experienced dentists of Northfield Dental Group believe in strong communities and strong families. Part of that devotion is a commitment to serving every member of your family, including young children who've just discovered the joys of chocolate but haven't quite mastered brushing and flossing.
Getting to know families is one of the great rewards of being a dentist. There's nothing quite like watching kids progress from teeth-with-gaps grins to the broad, confident smiles of maturity.
When should we plan our child's first visit?
If you're like most parents, the answer is probably: earlier than you thought. The American Academy of Pediatric Dentistry recommends a child see the dentist before the first birthday, or as soon as teeth begin to appear.
During the visit, the dentist can gently clean the teeth, apply fluoride if appropriate to strengthen the teeth against decay, examine the gums, and check for any emerging problems. The focus will be on the comfort of your child, making sure that his or her first experience in the "big chair" is memorable — in a good way. Your dentist can also show parents and children the best ways to care for the teeth at home. Learning a daily routine that promotes oral health is a great gift for any young child.
Should a baby tooth with a cavity simply be removed?
Baby teeth play an important role in ensuring that permanent teeth come in properly. They are also essential as a child learns to speak the first words and explore new foods. So when there is decay observed in a baby tooth, it is important to fill the cavity and preserve the tooth. A baby tooth cavity can actually spread to the permanent teeth below, and cause pain and infection of the gums.
How often should a child visit?
It's a good idea for your child to get in the habit of visiting every six months. As your child gets older, the experienced family dentists of Northfield Dental Group in West Orange can help monitor plaque build-up, provide more thorough cleanings, and even supply mouth guards to protect the teeth during youth sports.
What to Do If Your Child Is Overdue to See the Dentist
We realize that it may be easy to overlook the importance of taking your children to visit the dentist, especially amidst the bustle of daily life. That is why we are here to remind you how essential it is for kids to get routine dental care!
If your child is overdue to visit the dentist, contact Northfield Dental Group today. To schedule an appointment with one of our patient and friendly pediatric dentists, please contact Northfield Dental Group by calling today.