Restorative Dentistry Treatments West Orange
Also serving Short Hills & Livingston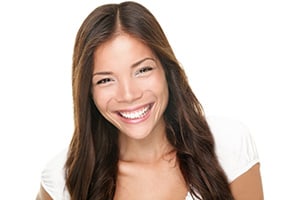 Psst. Would you like to know a secret? Improving the look of your smile is an easy way to improve your entire look! By whitening yellowed teeth, using natural-looking porcelain veneers to conceal imperfections in your teeth or using dental implants to fill in the gap left by missing teeth, you can look more polished — and more youthful!
Thanks to the research and development of technological and technical advancements in the field of restorative dentistry in the past decade, the West Orange / Livingston cosmetic dentists of Northfield Dental Group are able to offer long-lasting, natural-looking cosmetic solutions to restore the look of a few imperfect teeth or your entire smile. They provide restorative dentistry treatment options that are quick, affordable and exceedingly more comfortable than cosmetic treatments of the past.
Your Restorative Dentistry Treatment Options
At Northfield Dental Group, Drs. Stein, Widmayer, Shapiro, Unger, Mendina and Stein provide a host of smile-restoring treatment options to satisfy your personal aesthetic goals for your smile, including:
Invisalign – This clear teeth-straightening system effectively moves misaligned teeth into their proper place, almost imperceptibly.
Northfield Dental Group: the Right Choice for Your Restoration
Collectively, the dentists have 30 years of experience in general and restorative dentistry. They also have countless satisfied patients who are overjoyed with their restored smiles.
The dentists of Northfield Dental Group treat each patient like a family member, taking the time to listen to their patients' cosmetic concerns and overall objectives for their restorative dentistry treatment. The dentists then explain each person's treatment options in detail and answer any questions the individual may have. Together, the dentist and patient make an informed decision about which restorative dentistry treatment option is best for the patient.
Restorative Dentistry FAQs
What is restorative dentistry?
Restorative dentistry focuses on oral health and functionality. Restorative specialists like the experienced dentists of Northfield Dental Group in West Orange use advanced techniques to keep teeth and gums healthy, roots firmly anchored in the bone, and bites in perfect alignment. The range of restorative procedures includes fillings and root canals for decaying teeth, implants, dentures and bridges for missing teeth, crowns and veneers to fortify cracked or chipped teeth, and deep planing and scaling to shrink gum pockets and reverse periodontal disease.
Which conditions respond well to restorative dentistry?
You're a candidate for restorative dentistry whenever a tooth or its underlying structure develops a complication that puts your oral health at risk. A cracked tooth, for example, can split if left untreated, and expose the nerve. At early stages, a crown can be applied to stabilize the tooth and prevent further cracking. When the cracks have reached the nerve, your dentist will need to perform a root canal.
Fractures or decay can also lead to an even more painful condition known as an abscess. As the nerve begins to die in the tooth, an infection develops that builds pressure in the tooth and magnifies pain. In such cases, the experienced dentists of Northfield Dental Group in West Orange will recommend a root canal to remove the nerve. It will be replaced with a filler material, and the tooth itself will be covered securely with a crown. The procedure not only restores the health of the tooth, but also frees you from extremely intense pain.
Is restorative dentistry the same as traditional dentistry?
Restorative dentistry is traditional in the sense that it manages routine dental problems, such as cavities or fixing chips and gaps. Cavities are filled with a composite or other material; more extensive areas of decay may require inlays and onlays, which are created by outside labs and applied to the top of the tooth (or teeth) by your dentist. Gaps, chips and small cracks can be remedied with dental bonding, the application of inconspicuous filling material to the surface of the tooth.
Improve Your Look (and Outlook) With Restorative Dentistry
Not only can restoring your radiant smile improve your entire look, it can also improve your outlook on life. When you have a dazzling, healthy smile that makes you look rejuvenated, you also feel rejuvenated. In addition, a study from the University of Kansas has actually proved that smiling helps improve your mood — and who wouldn't want that?
If you are ready to restore the look of your smile and attain a new lease on life in the process, contact Northfield Dental Group today. To schedule an appointment with one of our New Jersey cosmetic dentists to learn about your restorative dentistry options, please contact the Northfield Dental Group staff by calling today.