Restorative Dentistry Treatments West Orange
Also serving Short Hills & Livingston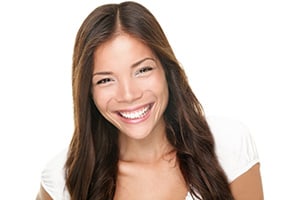 Psst. Would you like to know a secret? Improving the look of your smile is an easy way to improve your entire look! By whitening yellowed teeth, using natural-looking porcelain veneers to conceal imperfections in your teeth or using dental implants to fill in the gap left by missing teeth, you can look more polished — and more youthful!
Thanks to the research and development of technological and technical advancements in the field of restorative dentistry in the past decade, the West Orange / Livingston cosmetic dentists of Northfield Dental Group are able to offer long-lasting, natural-looking cosmetic solutions to restore the look of a few imperfect teeth or your entire smile. They provide restorative dentistry treatment options that are quick, affordable and exceedingly more comfortable than cosmetic treatments of the past.
Your Restorative Dentistry Treatment Options
At Northfield Dental Group, Drs. Stein, Widmayer and Shapiro provide a host of smile-restoring treatment options to satisfy your personal aesthetic goals for your smile, including:
Invisalign – This clear teeth-straightening system effectively moves misaligned teeth into their proper place, almost imperceptibly.
Northfield Dental Group: the Right Choice for Your Restoration
Collectively, the dentists have 30 years of experience in general and restorative dentistry. They also have countless satisfied patients who are overjoyed with their restored smiles.
The dentists of Northfield Dental Group treat each patient like a family member, taking the time to listen to their patients' cosmetic concerns and overall objectives for their restorative dentistry treatment. The dentists then explain each person's treatment options in detail and answer any questions the individual may have. Together, the dentist and patient make an informed decision about which restorative dentistry treatment option is best for the patient.
Improve Your Look (and Outlook) With Restorative Dentistry
Not only can restoring your radiant smile improve your entire look, it can also improve your outlook on life. When you have a dazzling, healthy smile that makes you look rejuvenated, you also feel rejuvenated. In addition, a study from the University of Kansas has actually proved that smiling helps improve your mood — and who wouldn't want that?
If you are ready to restore the look of your smile and attain a new lease on life in the process, contact Northfield Dental Group today. To schedule an appointment with one of our New Jersey cosmetic dentists to learn about your restorative dentistry options, please contact the Northfield Dental Group staff by calling (973) 736-0111 now.