Dental Exams & Cleanings in West Orange, NJ
Also Treating Families in Short Hills and Livingston Patients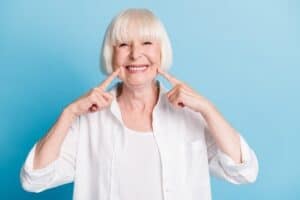 The better you take care of your teeth now, the more likely that you will have a nice smile and functional bite well into your old age. While daily brushing and flossing are critical, they are not a substitute for twice yearly dental cleanings and examinations. The elite team of professionals at Northfield Dental Group — Dr. Ivan Stein, Dr. Derek Widmayer, Dr. Jeffrey Shapiro, Dr. Alexandra Unger, Dr. Jonathan Mendia and Dr. Allan Stein — are committed to providing outstanding care during your semiannual appointments.
Dental Cleaning
Before your appointment, brush your teeth to help remove any stray food particles. This allows the dentist and hygienist to focus on more serious cleaning. When you arrive, we provide you with an apron to protect your shirt from spit and other liquids that could stain. We may ask you to gargle some high-powered mouthwash to further clear your mouth.
To begin the cleaning, our dental professional carefully scrapes tartar off your teeth both above and below the gumline. If the tartar is hard to remove, special tools can help to vibrate it loose and rinse it away with a stream of water. Floss is used to help clean any debris stuck between the gaps in your teeth.
Next is the polishing phase. The hygienist or dentist uses a gritty paste to polish the teeth. This paste is adept at removing surface stains, which helps to brighten and whiten your smile. The polish also helps your smoother teeth accumulate less bacteria, which can contribute to lower rates of gum disease and cavities.
Many patients also receive a fluoride treatment. Here, you wear mouthguards containing fluoride gel on both rows of teeth. Because fluoride helps to strengthen your teeth's enamel, this helps to protect your teeth from cavities in the coming months. Immediately following this treatment, you should spit and rinse out all the fluoride, being careful not to swallow any.
Dental Examination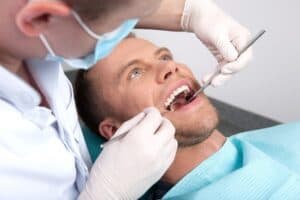 A dental exam is your dentist's way of checking the health of your gums and each of your teeth. In addition to looking directly in your mouth for problems, he uses digital imaging technology to get the most precise pictures of your mouth. With these images, he can spot any decay, infection or bone erosion. The digital imaging equipment uses much lower levels of radiation than traditional X-rays, which makes it a safe and effective way to check on your oral health.
You may not be aware of the extent of the problems your dentist looks for during an examination. Beyond looking for cavities and gum disease, your dentist also searches for signs of other potential issues like TMJ (temporomandibular joint) disorder, bruxism (teeth grinding), an irregular biting motion and oral cancer. Oral cancer kills one American every hour, but it is easy to treat when caught early. By identifying changes in your mouth's soft tissue, your dentist can refer you to a specialist before noticeable symptoms manifest.
Dental Checkup Pricing and Appointments
Most patients do not pay much (if anything) for a dental cleaning and examination because it is considered preventive care, which is covered by most dental insurance plans. Northfield Dental Group accepts most major dental insurance plans. Please confirm that your insurance is accepted when scheduling an appointment.
To make an appointment at our West Orange, NJ office, please call (973) 736-0111.