Tooth Extractions in West Orange, NJ
Also Treating Families in Short Hills and Livingston Patients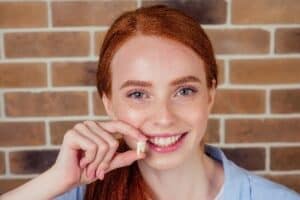 Do you have a damaged or infected tooth? Whenever possible, the talented dentists at Northfield Dental Group look for solutions that preserve your natural teeth in your mouth. Unfortunately, there may be some situations when removing a tooth is necessary. If you need a tooth extraction, you can expect Dr. Ivan Stein, Dr. Derek Widmayer, Dr. Jeffrey Shapiro, Dr. Alexandra Unger, Dr. Jonathan Mendia and Dr. Allan Stein to be sensitive to your situation and immediately devise a restorative dentistry plan that leaves you with a functional, complete smile.
Why Some Teeth Need Extraction
Although our dentists explore multiple alternatives before extracting a tooth, situations that may ultimately require tooth extraction include:
Insufficient space in your mouth for a tooth
Unresolved pain
Severe infection from gum disease
Significant damage (broken, chipped, cracked) that cannot be repaired with a dental crown
Your biting motion is impeded by a problem tooth
While not all situations that necessitate tooth extraction (such as accidental injury) can be avoided, your best bet for keeping your natural teeth is to brush and floss each day to maintain healthy teeth and gums.
Wisdom Teeth Extraction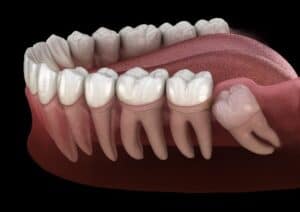 The teeth our dentists most frequently remove are wisdom teeth. This is the name for the molars furthest back in your mouth that typically don't appear until your late teenage years. Most adults develop four wisdom teeth, but some develop fewer than four or even none at all. Because wisdom teeth are often impacted and prone to infection, your dentist may recommend removing these teeth, even if you are not experiencing pain.
Anesthesia
Most patients at Northfield Dental Group opt to use local anesthesia (which keeps the area numb) during a tooth extraction, but general anesthesia is also available for patients with a low pain threshold or who are too anxious to be conscious for the procedure. Your comfort is a priority to our dentists, so the appropriate anesthesia level can be discussed prior to the extraction.
Teeth Extraction Recovery
Teeth extraction is an outpatient procedure, meaning you can return home after your procedure. You may need someone else to drive you home, depending on the type of anesthesia used. Wear gauze pads provided by your dentist, changing them every few hours (or sooner if they become blood soaked). Intermittent use of ice packs can help reduce the swelling, and prescribed painkillers can help to manage the discomfort.
For the first 24 hours, our dentists encourage you to relax (elevating your head with a pillow) and eat a diet of exclusively soft foods as your gums heal.
Can an Extracted Tooth Be Replaced?
Aside from wisdom teeth and areas where teeth are already overcrowded, our dentists perform restorative dentistry procedures to fill in a vacant space left from a tooth extraction. Potential options include:
Dental implant, which surgically attaches a prosthetic tooth to the jawbone. This is usually the most durable and natural-looking option.
Dental bridge, which uses a crown (or multiple crowns) on adjacent natural teeth to hold a prosthetic tooth in place.
Partial denture, which is a removable prosthetic that slides over your teeth to fill in the gap.
In most cases, this procedure is performed later to allow your mouth time to recover from the extraction.
Meet Our Dentists
To determine if your tooth needs to be extracted, or perhaps an alternative treatment can keep your tooth in your mouth, please schedule an appointment by calling our West Orange, NJ dentists at (973) 736-0111.