Laser Dentistry in West Orange, New Jersey
Also Treating Short Hills and Livingston Patients
At Northfield Dental Group in West Orange, we pride ourselves on staying up to date on the most advanced dental technologies and approaches to dentistry. Dr. Ivan Stein was among the first dentists in the nation to utilize the DENTA carbon dioxide (CO2) laser to treat soft tissues in the mouth, eliminating the need for surgery in some cases.
Whenever it is medically appropriate, the dentists of Northfield Dental Group offer their patients in West Orange, Short Hills and Livingston laser dentistry treatment options. Laser dentistry is becoming an increasingly popular form of treatment in dentistry thanks to the many advantages it offers over some conventional dental treatments.
DENTA CO2 Laser Technology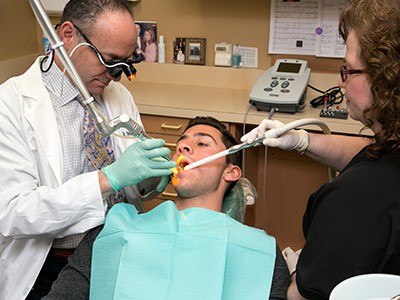 Using the DENTA CO2 laser for oral soft-tissue management is a gentle way to target the soft tissue specifically without damaging the surrounding tissues. The extremely accurate CO2 laser has a small spot size and a minimal depth of absorption, allowing the dentists to provide patients with added precision during treatment. In fact, when the laser is set to the proper power level and delivery mode, your dentist is able to remove just a single layer of cells, if needed. In addition, the DENTA CO2 laser comes equipped with a built-in Digital Feedback System (DFS) to help maintain peak power throughout every treatment.
Advantages of Laser Dentistry
Because using the CO2 laser is more precise than many traditional treatment methods and targets only the specific soft tissue to be treated without injuring the surrounding tissue, undergoing laser dentistry at Northfield Dental Group offers several advantages over certain conventional dental treatment options.
The following are some of the principal benefits that laser dentistry offers:
Precision – Your dentist can perform vaporization, incision and excision maneuvers with an outstanding level of precision, without disturbing the neighboring tissue.
Sterilization – The laser energy from the CO2 laser kills organisms, including bacteria, on contact, minimizing the risk of postoperative infections.
Fast wound healing – The high-energy laser beam aids in blood clotting (coagulation) to minimize bleeding, a feature that, when combined with the precise treatment of the soft tissues, often allows for quicker wound healing and tissue regeneration.
Comfort – Certain procedures performed with the CO2 laser can are painless and bloodless.
Less anesthesia and stitches – Thanks to the added comfort the CO2 laser affords patients and the added precision when treating the soft tissues with the DENTA CO2 laser, the dentist can use less anesthesia and stitches, for added safety and a quicker recovery.
Discover the Future of Dentistry Today
The future of dentistry has arrived with the advent of the CO2 laser for the treatment of soft tissues. If you are ready to discover the future of dentistry today, contact Northfield Dental Group for your next dental appointment.
To schedule an appointment with one of our laser dentistry experts to experience the advantages of laser dentistry, please contact the Northfield Dental Group staff by calling today.