Root Canals in West Orange, NJ
Also Treating Families in Short Hills and Livingston Patients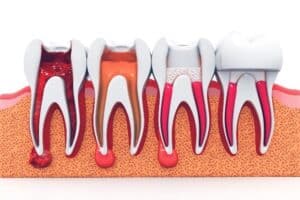 When a decaying tooth is at risk for falling out or needing an extraction, the talented dentists at Northfield Dental Group can perform a root canal to remove the infected pulp. Not only does a root canal help to cut down on the pain and swelling you experience from a tooth infection, but it can also help preserve the natural tooth in your mouth for the rest of your life.
To understand a root canal, it helps to know the anatomy of the tooth. Pulp, a soft tissue, is at the center of a tooth. If a tooth is cracked or decaying, the pulp is vulnerable to infection and inflammation. Although pulp is important to the development of the tooth, it has no function once you are an adult. Therefore, it is perfectly fine for a root canal to remove the infected pulp to save the tooth.
Candidates for a Root Canal
Warning signs that you have an infected tooth that needs a root canal include:
Jaw pain
Migraines
Sore, tender and/or swollen gums
Discomfort when chewing food
Tooth sensitivity when you drink hot or cold beverages
If you are experiencing these symptoms, please schedule an appointment with one of our dentists so that he can examine the problem. Digital imaging allows him to diagnose what is happening with your tooth so he can determine whether a root canal is necessary. Be aware that some patients experience minimal symptoms despite having a significant tooth infection, which makes it important to schedule regular appointments with your dentist.
Benefits of a Root Canal
While modern dentistry offers multiple solutions to restore a missing tooth, there is still no substitute for having a natural tooth in your mouth. Root canal remains one of the most effective ways to revive a decaying tooth so that it has longevity in your mouth.
What Is a Root Canal Procedure Like?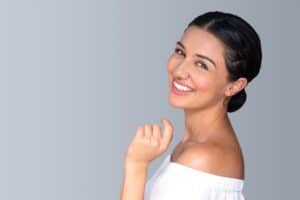 Your dentist begins by numbing your tooth so that you experience less discomfort during the procedure. He then makes a small hole at the end of the tooth, through which he uses special instruments to clean the tooth canals and remove infected pulp and nerves. He also administers a medication that helps to stop the infection more thoroughly. He then uses a temporary filling to keep the tooth free of debris.
During a second appointment (usually scheduled one week later), your dentist gives the tooth a permanent filling to completely occupy the part of the tooth that used to have pulp. Because a tooth is weaker after root canal, in most cases, he adds a dental crown to the top of your tooth to bolster it.
Root Canal Results
While having a root canal can help your tooth to remain in your mouth for a long time, it is not permanently immune from subsequent infection. It continues to be important to take care of the tooth by brushing and flossing it. If your tooth were to become reinfected in the future, the symptoms are likely to be much less severe. For that reason, it is important to continue scheduling dental cleanings and examinations to check on the health of this tooth and all of your other teeth.
Contact Northfield Dental Group About Root Canal
A root canal is a highly successful procedure when performed properly. Since it is important that your dentist remove every bit of pulp to stop the tooth from decaying, choosing a dentist with experience (like Dr. Ivan Stein, Dr. Derek Widmayer, Dr. Jeffrey Shapiro, Dr. Alexandra Unger, Dr. Jonathan Mendia or Dr. Allan Stein) is essential. Their online reviews reflect that they are experts at performing root canal who make every effort to minimize pain. To find out if a root canal is the trick to resolving your tooth pain, please contact or call (973) 736-0111 today.