Holistic Dentistry in West Orange, NJ
Also Treating Short Hills & Livingston Patients
When you think of "holistic" care, do you immediately conjure up images of ancient exotic herbal concoctions or white-haired, bearded gurus? Although these associations may not be completely off-base in the tradition of holistic medicine, that's not exactly what we mean when we say we offer our patients in Short Hills, Livingston and West Orange holistic dentistry at Northfield Dental Group. Let's take a look at modern "holistic dentistry."
What Is Holistic Dentistry?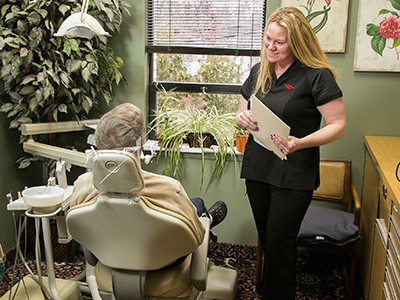 Firstly, the word "holistic" means "whole." Thus, holistic treatment strives to avoid treating only the problem at hand and is instead intended to address the patient's health as a whole.
The objective of holistic dentistry is to provide effective dental care with the use of alternative diagnostic approaches, minimally invasive treatments, biocompatible dental materials and recommendations regarding how you can prevent future dental disease or damage.
In addition, our New Jersey holistic dentists collaborate with other holistic health practitioners to provide comprehensive care for you and your family.
Holistic Dentistry at Northfield Dental Group
The holistic dentists at Northfield Dental Group provide dental treatment with your complete health in mind. To this end, we minimize your exposure to harmful radiation by using equipment with low radiation emission, limiting the number of X-rays taken and offering alternative methods for diagnosis. In addition, we use only biocompatible and mercury-free dental materials, providing you with a safe and conservative approach to dental care.
At Northfield Dental Group, we educate you about your treatment options, so you can make informed decisions about which dental treatment options to pursue. We want you to have all the information needed to make the choices that are right for you, so you feel confident in your decisions. As holistic dentists, we are committed to improving your overall quality of life by providing comprehensive dental care that respects and honors the whole body.
Visit One of Our Dental "Gurus" Today
We may not have long, flowing white beards, but we do consider ourselves gurus of holistic dentistry. If you are ready to experience the benefits of holistic dentistry, schedule a time to visit one of the dental gurus at Northfield Dental Group today.
To set up an appointment with one of our dentists, please contact Northfield Dental Group by calling (973) 736-0111.