Smile Makeover West Orange
Also serving Short Hills & Livingston
Researchers at the University of Kansas conducted a study which showed that smiling can improve a person's mood, even if that person is not happy! However, individuals with crooked, cracked, chipped, decaying or missing teeth — or all of the above — may be embarrassed about smiling, even if they are in a good mood to begin with. The New Jersey cosmetic dentists at Northfield Dental Group enjoy helping such individuals.
The smile experts at Northfield Dental Group offer comprehensive smile makeover treatment for patients who need more extensive help restoring the look of their smile. Our smile makeovers typically include several cosmetic dentistry treatments. Your West Orange cosmetic dentist will evaluate your smile and recommend an appropriate treatment protocol to satisfy your unique aesthetic objectives for your smile and your oral health needs. From teeth whitening and treatment with Invisalign to porcelain veneers, dental implants and full-mouth dentures, we can help you restore or achieve a gorgeous smile that you will want to show off, under any condition.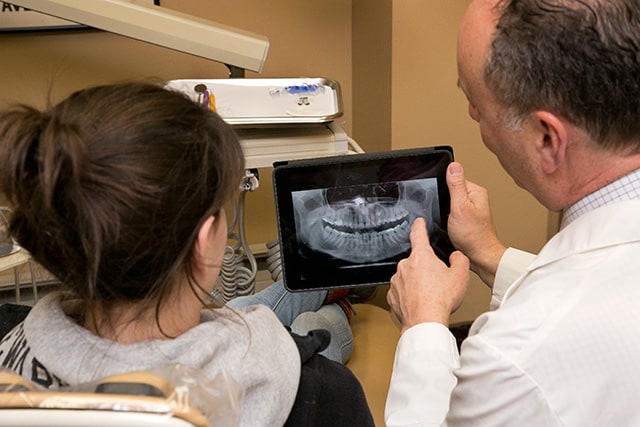 What is a Smile Makeover
Drs. Stein, Widmayer, Shapiro, Unger, Mendina and Stein offer a variety of smile makeover treatment options to meet our patients' various cosmetic and oral health objectives. The dentists are highly sought after for their expertise with the following cosmetic treatment options:
After evaluating your dental health and overall smile, your dentist will recommend an appropriate treatment plan to restore your smile. Your personalized treatment plan may involve multiple cosmetic treatments, for a full smile makeover.
Smile Makeover FAQs
What is a smile makeover?
A cavity, a chipped tooth, a loose filling — for a dentist, these are simple grace notes in a familiar melody. When many imperfections accumulate in the mouth, those individual notes swell into a symphony, and it takes a master conductor to turn it all into beautiful music. That's what a smile makeover is — a way for your dentist to compose for you a beautiful smile by addressing each dental and periodontal challenge.
A smile makeover is a comprehensive approach that uses all of the instruments of cosmetic dentistry. In-office tooth whitening transforms yellow or stained teeth. Porcelain veneers cover flaws and flash the perfect smile to the world. Dental crowns stabilize teeth while increasing their aesthetic appeal. Dental implants, bridges or dentures replace missing teeth. Invisalign orthodontic treatment straightens teeth, restoring balance and beauty. Gum re-contouring restores your natural gum line and promotes periodontal health. In the hands of the experienced cosmetic dentistry specialists of Northfield Dental Group in West Orange, each technique brings you a step closer to a brilliant smile.
How long will it take?
Smile makeovers are highly customized, based on a patient's current oral health, the number of complications or conditions present, and his or her own vision for the perfect smile. Some elements of a smile makeover, such as an orthodontic treatment, may take months. Teeth whitening, by contrast, requires only an hour office visit, after which your smile will be as much as eight shades lighter. Makeover plans are flexible, and are based on extensive conversations between patient and dentist in which questions about benefits, expectations, possibilities and costs are explored.
What will I love most about a smile makeover?
A makeover reclaims your smile from time and neglect. When you trust your smile makeover to the experienced cosmetic dentistry specialists of Northfield Dental Group in West Orange, the results are dramatic and life-changing. The world will suddenly see a new you — a confident person with a smile that brightens the day and brings joy to every adventure.
Why Choose Northfield Dental Group for Your Smile Makeover
Choosing a cosmetic dentist in the Livingston, West Orange or Short Hills area is an important decision. Your smile is one of the first features that other people notice, so it is crucial to choose a talented cosmetic dentist with an eye for artistic detail to perform your smile makeover. You desire smile makeover results that look natural and are long lasting. Northfield Dental Group can provide the long-lasting aesthetic results you long for, so you feel free to smile again.
To schedule an appointment to make over your smile, please contact the Northfield Dental Group staff by calling today.