Dentures in West Orange, New Jersey
Also serving Short Hills & Livingston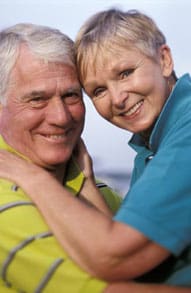 No one enjoys constantly obsessing about the noticeable gaps in their mouth that have been left behind by missing teeth or having to wear clunky, uncomfortable dentures that do not look or feel natural. Thank goodness, you do not have to do either of those things! At Northfield Dental Group, we offer individuals in West Orange, Short Hills and Livingston dentures to replace some or all of the teeth, with comfortable, natural-looking results.
Dentures, Explained
Dentures are sets of synthetic teeth that you can remove as needed. They are a natural-looking way to replace teeth you have lost due to tooth decay, periodontal (gum) disease or injury. They are effective at filling in the gaps left by missing teeth and inhibiting any remaining teeth from migrating into the empty spaces. Dentures restore certain mouth functions such as chewing as well as restoring the look of your smile.
If you are missing only some of your teeth, your dentist will most likely recommend partial dentures. He typically recommends full dentures for individuals missing all their teeth.
Full dentures are comprised of a flesh-colored, plastic-covered metal base with synthetic teeth attached to the top. The base sits atop the gums. Full upper dentures cover the roof of the mouth while full lower dentures are shaped like horseshoes to allow room for the tongue.
Partial dentures, or removable dental bridges, are also comprised of artificial teeth affixed to a flesh-colored, plastic-covered metal base. With partial dentures, however, the component that covers the metal base clasps to the existing natural teeth.
Caring for Dentures
As you age, your oral anatomy changes. These natural changes in your mouth may cause dentures to loosen or move around in the mouth, irritating the gums or making it difficult to eat. Thus, it is important to visit your dentist every year for your annual dental exam and cleanings, so he can monitor your oral health and adjust (or remake) your dentures, as needed.
Between your dental exams and cleanings, you should care for your dentures in the following ways:
While handling your dentures, stand over a large container of water or a folded towel, as theyare fragile and incur damage easily when dropped.
When not in use, place dentures in denture cleaning solution or cool water, so they do not dry out.
Never use hot water to clean or soak your dentures, as it may cause them to warp.
Brush your dentures daily to clean off any food, plaque or stains.
Use a soft-bristled toothbrush to brush your tongue, gums and the roof of your mouth each morning before inserting dentures to remove plaque and stimulate blood circulation.
Visit Northfield Dental Group if your dentures sustain any damage to avoid doing further harm to them.
Who Can Benefit From Dentures?
If you are missing some or all of your teeth and are in good general health, you would probably benefit from dentures. You must also have sound oral health; this includes having healthy gums which are free of periodontal disease. Finally, you should have adequate jawbone mass to provide a supportive foundation for the dentures.
To find out if you could benefit from dentures, schedule an appointment with one of the New Jersey denture specialists at Northfield Dental Group. Dr. Stein, Dr. Widmayer, Dr. Shapiro, Dr. Mendina or Dr. Stein can evaluate your oral health and determine if you are a suitable candidate for denture treatment. The experienced dentists offer a wide array of cosmetic dentistry options for those who desire an alternative to dentures.
Dentures FAQs
Are dentures right for me?
If you have missing teeth, you are a candidate for dentures. When spaces exist in your mouth, your remaining teeth will begin to shift. This will ultimately affect your bite. Dentures fill in the spaces and stop the movement. Whether you have lost some or all of your teeth, dentures will make chewing food easier, improve your speech, promote a natural jaw profile — and give you a whole new reason to smile.
What types are there?
Complete dentures rest on the gums, and are for patients who have lost all teeth. Depending on the number of teeth you retain, the experienced cosmetic dentistry specialists of Northfield Dental Group in West Orange will recommend either a partial denture or a bridge. Because these appliances attach to existing teeth, they are more stable in your mouth. Stability can be enhanced with all types of dentures by adding dental implants to the mix. Implants are firmly rooted in your jaw, providing a solid anchor for your new set of teeth. Implants are especially useful for the lower jaw: While upper dentures cover the roof of the mouth, lower dentures leave space for the tongue, and as a result tend to be less stable.
What is the process like?
Most dentures require several visits for proper design and fitting. During your first appointment, your dentist will measure your bite and take an impression of your teeth. This mold will be used to create a model and later a set of wax "trial" dentures that you can try before the final set is created. The last step is the custom fitting, ensuring dentures are comfortable and secure.
What are the lifestyle effects?
New denture wearers go through a period of adjustment. Your mouth will need to learn how to fine-tune the way you chew and speak. Hard and sticky foods will be especially challenging in the beginning. With speech, your tongue needs some time to coordinate with the new dental appliance. The experienced cosmetic dentistry specialists of Northfield Dental Group in West Orange will ensure your new dentures are well-fitting, but you may also want to use denture adhesive in the early weeks as you practice chewing different foods and reclaiming phonetically complex words.
To schedule an appointment with one of our West Orange, New Jersey dentists to find out if dentures are right for you, please contact Northfield Dental Group by calling today.