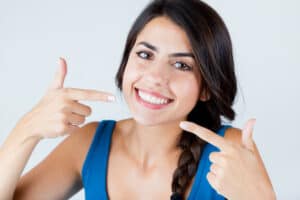 At Northfield Dental Group in West Orange, NJ, our patients are big fans of dental bonding. This easy, effective cosmetic procedure can make aesthetic improvements that transform their smiles.
To perform dental bonding, the dentist molds resin (in putty form) over the desired teeth and then hardens it by shining an ultraviolet light. Once the resin has bonded, the dentist can polish the tooth so that it looks natural and feels smooth. Our team of top-rated dentists have prepared this blog to help more patients understand the magical benefits of dental bonding.
1. Dental Bonding Is Less Expensive
Compared to other cosmetic dental procedures, dental bonding is usually the least expensive option available. In a nutshell, dental bonding requires less material as well as less labor on the part of the dentist. Patients who want to give their smile a makeover without breaking the bank can do so with dental bonding.
2. Dental Bonding Does Not Hurt
For some patients who get nervous going to the dentist, the thought of undergoing an elective procedure does not feel worthwhile. Dental bonding can be a great compromise since it is a pain-free procedure. Since the resin is applied to the surface of the teeth, it does not require yanking, drilling or blood. Usually, the patient feels comfortable enough after leaving the office that he or she doesn't even consider taking an aspirin.
3. Dental Bonding Is Quick
While some cosmetic procedures require multiple hours in the dentist chair or a return visit, dental bonding is easy to complete in one short session with no need to schedule a follow-up appointment.
4. Dental Bonding Is Ubiquitous
The Northfield Dental Group dentists have used dental bonding to address a range of cosmetic flaws. Resin can be used to conceal discoloration, cover cracks and chips, fill in sizable gaps between teeth, change the size of teeth by making them appear wider or longer or protect tooth roots that are exposed due to a receding gumline.
5. Dental Bonding Is Not Permanent
Some procedures like porcelain veneers or dental implants permanently alter the mouth. Dental bonding is different because it affixes to the surface of the tooth, changing nothing aside from the tooth's appearance. Down the road, if a patient decides he or she no longer wants the dental bonding, a dentist can easily scrape it off with no harm done to the tooth. Whereas veneers are a lifelong commitment and need to be replaced every decade or two, a patient can also opt to not have dental bonding performed again in the future.
Speak to New Jersey's Best Dentists
The cosmetic dental team at Northfield Dental Group would be happy to show you the advantages of dental bonding. If you are ready to make aesthetic improvements to your mouth with a non-invasive procedure, please call (973) 736-0111 today.