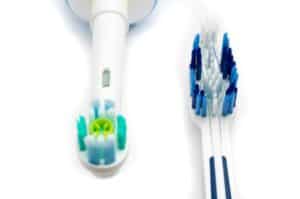 It is no surprise that brushing your teeth plays a vital role in oral care by keeping teeth surfaces free of food particles and plaque that can lead to oral decay and disease. The American Dental Association recommends replacing your toothbrush every three to four months, or when bristles become worn. At the Northfield Dental Group in West Orange, NJ our team would like to point out some of the more extensive findings when it comes to keeping your toothbrush clean and in tiptop shape.
What's On Your Brush?
Studies have found that hundreds of microorganisms are transferred from your mouth to your toothbrush. Other microorganisms can collect on the brush from the environment where your toothbrush is stored (like the bathroom), and researchers continue to study whether these can cause oral and systemic infection. Toothbrushes are not required to be sold in a sterile package, so there may even be bacteria on them straight out of the box.
Although studies do show that microorganisms grow on toothbrushes after use, no specific oral diseases have been linked to this phenomenon. Nevertheless, it is still advisable to adopt good hygiene and storage habits for toothbrushes.
Recommendations for Toothbrush Storage and Hygiene
Do not share toothbrushes; sharing a toothbrush can mean sharing bodily fluids and increasing the chance to contract infection or illness; people with weakened immune systems are particularly at risk.
Store toothbrushes in an upright position; rinse your brush thoroughly with water to remove any remaining toothpaste and food particles; allow brushes to air-dry and avoid having brushes touch if multiple brushes share the same area.
Avoid enclosing brushes in an airtight container; storing brushes in an enclosed area promotes the growth of microorganisms.
Replace brushes every three to four months or when there are signs of wear; children's brushes usually need replacing more frequently.
It is not necessary to clean toothbrushes in the dishwasher, microwave or with an ultraviolet device. When in doubt about the cleanliness of your toothbrush, it is a simple matter to replace it. Please call your Northfield Dental Group team at (973) 736-0111 to schedule an appointment to discuss any of your oral hygiene concerns.