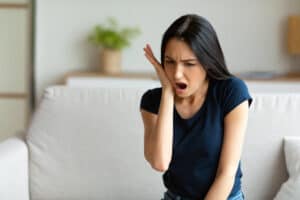 Dental emergencies are more common than people realize. How can you know if you are experiencing a dental emergency? Since many dental issues can cause pain related to inflammation, it can be hard to tell. The team at Northfield Dental Group explores some of the common situations in which dental emergencies occur.
Some Common Causes of Dental Emergencies
Some common ways that people encounter true dental emergencies are through bicycle or car accidents, or workplace or sports injuries. Glass bottles, hard candies and hard bagels can also present a broken or cracked tooth risk. Wearing appropriate sports gear, such as custom-fitted mouthguards, and taking care when drinking from glass bottles or consuming hard foods are some ways to help prevent tooth damage. Another common cause for dental emergencies is an untreated infection. This can lead to a tooth abscess, which can be very painful and requires prompt dental care to prevent further complications.
When To Seek Emergency Care
A toothache in itself may not be a dental emergency. However, it does indicate that you have an underlying dental health issue, so it's important to secure a dental appointment to be assessed.
What are some things that can wait? A chipped tooth, a loose filling, dental crown pain or realizing that a broken tooth needs repair are important concerns that require prompt care, but you can likely schedule an appointment with your dentist to address these issues.
What are true dental emergencies? If you suffer mouth trauma, tooth injury, a tooth is knocked out or you experience severe tooth pain, it's always best to seek out immediate emergency dental care. A dental injury or abscess can lead to more serious health problems if not treated at the right time. Ultimately, if you are concerned, the safest approach is to contact your dentist for direction on when you should be seen. Your dentist can determine the best course of action and treatment for your individual concerns.
What To Do If You Lose a Tooth
Losing teeth is a normal occurrence during childhood, but not in adulthood! If your tooth is knocked out or lost, there are some important actions to take to increase the probability of saving the tooth.
Rinse your tooth in milk if it is unclean.
Place your tooth back in its socket and hold the tooth in place, preferably with gauze.
If a tooth is chipped or broken, rinse and store the pieces in milk if you can.
Immediately contact your dentist for emergency care. A tooth may be unsavable if out of the mouth for more than an hour.
Contact Us
Northfield Dental Group can help you determine what dental treatment you may need. To schedule an appointment at Northfield Dental Group, contact us. If you are experiencing a dental injury, try to remain calm and call us immediately at (973) 736-0111. For afterhours emergency calls, please listen to the message for information on how to contact our on-call emergency dentist.