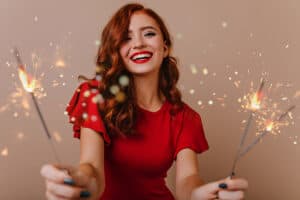 During the holiday season, many of us celebrate the end of a landmark year. As we look forward to the New Year, we long to look and feel our best to face a fresh start. One of the best ways to start the new year is to make a beautiful smile one of your top New Year's resolutions.
Northfield Dental Group offers a wide range of cosmetic dental surgeries designed to help you meet your aesthetic and oral health needs. If you are unhappy with your smile, find yourself avoiding smiling wide for photographs, are embarrassed of tooth gaps or missing teeth or simply desire whiter teeth, you may be a good candidate for cosmetic dental care.
Options to Brighten Your Smile
To make over your smile for the new year, the dentists at Northfield Dental Group can perform a variety of procedures, including teeth whitening, Invisalign fitting, placement of porcelain dental veneers, crowns or dental implants. Dentures, bridges, dental bonding and gum recontouring are some other services that may help create the beautiful smile you desire.
Smile Makeover Menu
We offer an assortment of procedures and tools to repair and enhance your smile for the New Year. According to your individual needs, as determined through a dental consultation, one or more of the following procedures may be appropriate for you:
Whitening: Teeth whitening treatments can lighten stains or discoloration, brightening the smile.
Invisalign: A discreet teeth straightening system that can gradually create aligned teeth.
Veneers: Our dentists may place porcelain veneers over unsightly chipped, cracked, stained or otherwise damaged teeth.
Crowns: Porcelain crowns can improve the appearance, size, shape or uniformity of teeth that are decayed or damaged.
Dentures: Removable frames with prosthetic teeth may be best when multiple teeth are missing from the mouth.
Dental implants: Implants may be used to replace a single missing tooth or gap, creating a smile you can be proud to reveal.
Dental Bonding: Tooth-colored material can be applied to improve the shape, color or uniform appearance of teeth.
Gum Recontouring: This procedure restores a natural gum line for a more confident smile and additionally promotes periodontal health.
Contact Us
For an evaluation and custom-tailored treatment recommendations to help you step into the New Year with the most beautiful smile, contact the Northfield Dental Group by filling out our online form or calling our office today.