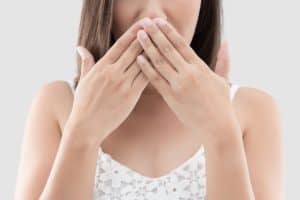 One of the most common misperceptions about cosmetic dentistry is that it is reserved for the rich and famous "Hollywood types." Actually, cosmetic dentistry can help men and women of all walks of life enjoy beautiful smiles and enhanced confidence.
If an imperfect smile is preventing you from feeling your best, the cosmetic dentistry team at Northfield Dental Group would love to help. Read on as we discuss some of the signs you may be well-suited to cosmetic dentistry.
You Hide Your Smile Behind Your Hands Because of Aesthetic Flaws or Blemishes
The first sign you may benefit from cosmetic dentistry is that you would rather hide than show off your smile because of aesthetic imperfections (i.e., a slightly chipped or cracked tooth, abnormally small tooth, uneven tooth edges). In many cases, cosmetic dentistry procedures such as dental bonding or the placement of porcelain veneers can cover up these minor blemishes and create a more perfect-looking tooth.
Over-the-Counter Strips or Gels Haven't Helped Your Stained or Discolored Teeth
Are your teeth stained yellow or brown because of your love of coffee or red wine? Unfortunately, over-the-counter whitening products are not a fool-proof solution. These strips or trays can coat teeth unevenly, resulting in spotty results. They also lack the powerful bleaching agent needed to lift stubborn stains. And, they do not work on restorations like crowns or fillings.
Trusting your care to the cosmetic dentists at Northfield Dental Group is a more reliable way to achieve a bright, white smile. We use a powerful, state-of-the-art whitening system to dramatically brighten teeth for a winning smile. We may recommend the placement of veneers over teeth that do not respond to whitening treatment, and we can replace old fillings or crowns with more beautiful restorations.
You Have a Slight Gap Between Your Front Teeth, But Don't Want to Wear Braces
Small gaps between two of your front teeth do not necessarily require spending a year or more in braces. Thanks to cosmetic dentistry, our team can mask some gaps in a single dental appointment. One option is to apply dental bonding material to create the illusion of wider teeth and close the gap. If you are looking for a more dramatic or longer-lasting solution, we may place porcelain veneers over the front teeth to hide the gap.
To learn more about cosmetic dentistry and what it can accomplish, the team at Northfield Dental Group invites you to book an appointment at our practice. Please call or email us today to schedule your visit.