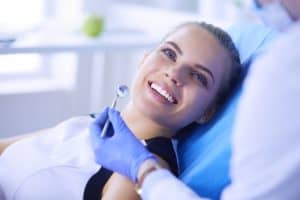 Does the thought of visiting the dentist make your heart beat faster and your palms feel clammy? You are not alone. Fear or anxiety about dental treatment is extremely common. With the right support and resources, it is something you can overcome.
In this post, the team at Northfield Dental Group shares strategies to help calm your fears about dental treatment so you can get the care your teeth and gums deserve.
Communication Is Key
Doctor-patient communication is fundamental to a positive, calm dental experience. Speaking up and sharing your feelings with your dentist and dental team allows them to better treat your needs.
You never have to be afraid to open up to the team at Northfield Dental Group. We treat every patient with kindness, patience and respect, and we are well-versed in helping patients just like you conquer your fears or anxieties. Identifying your specific fear(s) helps us determine the best way to put you at ease.
When you schedule your visit, mention your nerves to the receptionist, and upon arriving at your appointment, remind the staff that you feel nervous or anxious. If a lack of control is causing or contributing to your anxiety, your dentist can recommend a few techniques to help you feel relaxed. For instance, he can work very slowly and explain everything to you beforehand so there are no surprises. You can also decide on a signal that you can use, such as raising your hand, if you need a quick break from treatment.
Find a Good Distraction
For some of our patients, the sounds, smells and sensations of dental treatment make them nervous. If you feel similarly, you may prefer to distract yourself during your visit. You could wear noise-cancelling headphones and enjoy soothing music or a podcast. Or, you could watch your favorite television series or a movie. Simple visualization exercises, such as imagining yourself at the beach or traveling, are also useful.
Be Mindful When Scheduling Your Visit
If possible, try to schedule your visit for a time when you are least likely to be rushed or stressed. Depending on your daily routine, this may be in the morning, around lunchtime or later in the afternoon. You should arrive a few minutes early, but not too early, as sitting for a long time in the waiting room may cause feelings of nervousness to escalate.
Consider Medication
Northfield Dental Group offers several medications to put you in a more relaxed state of mind during your appointment. Depending on the severity of your anxiety and treatment plan, you could benefit from the use of nitrous oxide (i.e., "laughing gas") or an oral sedative medication. Our team can evaluate your options to determine the most suitable solution.
For more information about reducing dental anxiety so you can get the care you need, please reach out to Northfield Dental Group. You can give us a call or send us an email today.