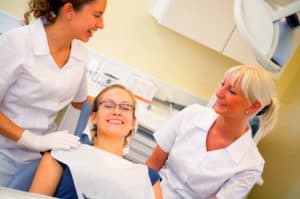 It's important to visit your dentist twice a year, but what should you do if you need to find a new dentist? Whether you've recently moved or aren't satisfied with your current dentist, you should take the time to research your options and find a dentist that fits your needs.
In this post, the team at Northfield Dental Group discusses our top tips for choosing a dentist.
Ask for Recommendations
A personal recommendation is often the best way to begin the search for a new dentist. Ask your family, friends, or colleagues about their dentists and see who they recommend.
Be sure to ask follow-up questions, such as:
What do they like about their dentist?
How long have they been a patient at this dental practice?
What types of dental services do they offer?
Ask several different people so you can get a few recommendations and then do further research.
Research
A dentist that's a good fit for someone else isn't always the best for you. Do your own research and pay attention to the following important details:
Where the dental office is located and what the office hours are
What insurance plans and payment options they accept
Whether they offer financing
If you have special dental needs, check to see if the dentist offers these services so that you don't have to visit a different office for general and specialized dentistry.
Make a Phone Call
Once you've narrowed down your list, call each dental office and ask them questions. Find out if they accept your insurance, how soon you should schedule your appointment, and whether they can handle your specific dental needs.
Some of a dentist's most important qualities need to be observed in person. You need to be face-to-face with your dentist to decide whether they make you feel comfortable and reassured during your visit.
If your first choice doesn't feel right, don't be afraid to try a different dentist. Put in the effort to find a good match, and you should end up with a dentist you can visit for years to come.
Schedule your appointment with one of our West Orange dentists by calling (973) 736-0111 or emailing our office today.