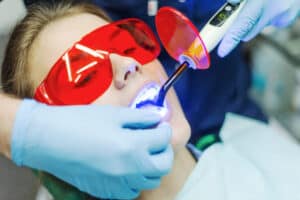 The field of dentistry is continuously evolving, to the extent that many people do not realize how many common procedures can be performed with the help of laser technology. For patients who have a fear of the dentist or who simply want to learn more about the kinds of things lasers can do for oral health, the team of professionals at Northfield Dental Group share the following benefits of laser dentistry:
1. Lasers Are Multi-Purpose
Northfield Dental Group uses DENTA CO2 Laser technology, which can gently treat soft tissue like the gums. This laser is remarkably precise, allowing our dentists to treat specific areas without disrupting or damaging adjacent tissue.
In many cases, our dentists can use lasers for procedures like:
Treating gum disease
Whitening teeth
Reshaping gum tissue for a more attractive smile
Preparing a tooth for a filling
Removing enamel from a tooth
2. An Easier Procedure and Recovery
Almost all patients find that the procedures are more comfortable when they are treated with lasers —with some people even expressing that they feel no pain at all. In certain types of procedures, patients treated with lasers can skip anesthesia and stitches.
These benefits also carry over to the recovery period. On average, patients bleed less and heal quicker after laser treatments. Even better, because lasers sterilize as they work, patients are less susceptible to infection and other complications, which precludes the need for follow-up treatments.
3. Patients Are Less Nervous
When people discuss the fears they have about dentistry, they often point to the sounds of whirring drills and scraping tools as the source of their anxiety. Because lasers are silent and do not make physical contact with the teeth, many patients find the whole process to be less taxing on a psychological level.
It also helps that laser procedures can be completed more quickly than they are with traditional tools. That translates to less time in the dental chair overall. Patients who have been putting off critical dental work may want to investigate laser dentistry to see if that helps relieve their fears.
Discuss Laser Dentistry with Our Team of Experts
To decide whether laser dentistry is the right choice for you, make an appointment with one of our knowledgeable dentists (Dr. Ivan Stein, Dr. Derek Widmayer, Dr. Jeffrey Shapiro, Dr. Jonathan Mendia and Dr. Allan Stein). They can assess your candidacy for laser dentistry and recommend an appropriate course of treatment. To schedule a consultation, please call (973) 736-0111.