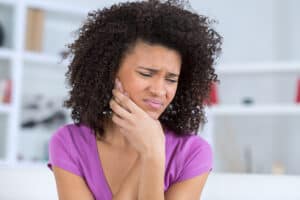 After a tooth or mouth injury, many people wonder whether to seek emergency dental care. Have you just had a sports-related injury to the face or mouth with tooth pain or damage? Are you feeling like you may have broken or loosened a tooth while eating? It is important to seek appropriate dental advice after a tooth injury. Northfield Dental Group offers emergency dental assessment, depending on the scenario.
Temporary Crown Damage
Losing a temporary crown or filling at dinner can be embarrassing. Beyond this, it can be very painful. This is a time to seek emergency dental care. In the meantime, you may fill the space with a piece of sugarless gum. Our on-call emergency dental care can help from there.
A Lost or Broken Tooth
If you lose a tooth in a sports injury or due to another blunt force trauma injury, submerge it in a glass of whole milk if you can, and pursue immediate emergency dental care. In the case of either a knocked out or broken tooth, time is of the essence as the sooner you receive dental care, the more likely you are going to be able to preserve the tooth. If you believe a tooth is cracked, seeking dental care is also a good idea.
Preventing Sports-Related Tooth Injury
Maintaining regular dental care appointments, keeping up with oral hygiene, seeking care for any cavities or concerns and wearing appropriate protective gear are the best ways to prevent dental sports injuries. Custom-fitted mouthguards are especially important. They are helpful for any sport or high-contact activity, but are critical in athletic activities like football, martial arts, hockey or boxing—a fitted mouth guard can prevent oral injury with minimal distraction and maximum comfort.
Remember that not all mouth guards are created equal! The dentists at Northfield Dental Group have many years of experience in mouth guard fabrication and fitting and can help you secure the appropriate protective gear for your athletic activity of choice to decrease your risk of injury.
In the event of a dental sports injury, in certain cases, our providers may be able to travel to the site of sports injury for on-site care.
Contact Northfield Dental Group
If you are experiencing a dental injury, remain as calm as possible and call us immediately. If a tooth has been lost, place it in a cup of whole milk when possible. If you are calling after hours, listen to the message for details on how to contact our emergency on-call dentist.