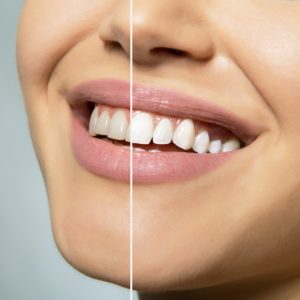 There are ample benefits to having a smile you are proud of. You are more likely to form good first impressions and earn a reputation as being approachable and friendly. Your beautiful smile may give you the confidence you need to pursue personal or professional goals.
If your smile isn't as attractive as you would like, cosmetic dentistry can help. In this post, the team at Northfield Dental Group discusses three specific ways cosmetic dentistry techniques can improve your smile.
1. Brighten Stained or Discolored Teeth
Many of our cosmetic dentistry patients are concerned about the color of their teeth. A love of red wine, coffee or tea or the natural effects of the aging process can lead to noticeable stains or discoloration. We offer professional whitening treatments to transition teeth back to a beautiful, pearly white color.
You may prefer to undergo an in-office whitening treatment or use custom take-home trays to whiten at home. Another option is to combine the two approaches for the best results. Our team uses powerful bleaching products that lift even the most persistent stains and discoloration.
2. Conceal Superficial Imperfection
Another way cosmetic dentistry can improve your smile is by camouflaging superficial imperfections in your teeth that cause you to feel self-conscious or embarrassed. For example, dental bonding is a quick and easy cosmetic treatment that covers up small tooth chips, uneven tooth edges or even slight spaces in between the front teeth. Requiring only a single appointment, bonding involves the application of a resin material to sculpt your teeth to their desired shape and appearance.
3. Change a Tooth's Shape, Size or Alignment
If you have a tooth that doesn't match the rest of your teeth in terms of shape, size, length, width or alignment, we can place a porcelain veneer over it. This ultra-thin shell hides the abnormality and helps create a more uniform-looking smile. Your veneer will match the color and texture of your natural teeth, so no one will be able to tell the difference. Your veneered tooth will look and feel extremely natural.
You may wish to transform all of your front teeth that show when smiling. If you want a perfect A-list smile, a set of high-quality veneers can help you achieve your goal!
Schedule a Cosmetic Dentistry Consultation
Not every dental practice offers the cosmetic dentistry expertise that we do. For more information about our experience in beautifying smiles and the treatments we offer, please request a consultation with us today.