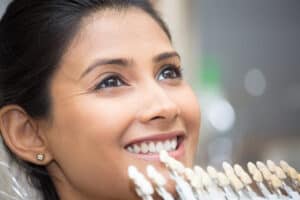 Porcelain veneers are thin shields placed over the front of your natural teeth to cover up imperfections like cracks, stains, gaps and crookedness. In recent years, this cosmetic treatment has grown in popularity among patients who were not genetically blessed with amazing teeth. If you have been contemplating veneers to perfect your smile, the cosmetic dentists at Northfield Dental Group are here to answer some of your most pressing questions.
"How long will my veneers last?"
Most porcelain veneers last for about a decade before replacements are necessary. You can extend the lifespan of your veneers with proper care, including brushing and flossing regularly, avoiding chewing on hard objects and not drinking liquids known to stain teeth. Because your natural teeth are filed down to fit the veneers, it will be necessary to replace them when the current veneers wear out.
"Can I choose what my veneers look like?"
Yes, one of the many advantages of porcelain veneers is that you get to pick the precise size, length, shape and color of your teeth. If you have always wanted your teeth to be a little longer and whiter, veneers are your opportunity to achieve that exact look. Veneers come in many sizes and shades, allowing you to create your ideal mouth — whether that is blindingly white or a more natural color is entirely up to you.
"Do I need to do an entire row of veneers?"
While some patients choose to put veneers on every tooth for a uniform appearance, many use one or a few veneers to cover crooked, misshapen or discolored teeth. If you are choosing to add a limited number of veneers to your mouth, your dentist will help you to choose veneers that match the existing size and shade of the other teeth in your mouth so that they look natural in your mouth.
"If I get veneers, can I skip other procedures?"
Veneers are a cosmetic procedure designed to improve the aesthetics of your mouth. They should only be attached to the front of healthy teeth. If you need restorative procedures performed on your teeth, it is important to take care of those issues before getting veneers — covering up a decaying tooth with a veneer does nothing to address the health concerns.
"Is there a less permanent alternative to veneers?"
If the commitment involved with porcelain veneers is more than you are ready for, you may want to discuss dental bonding with your dentist instead. This treatment uses resin (made to be the same shade as your other teeth) to make cosmetic improvements in your mouth. Although bonding is far less durable than porcelain veneers, they also do not permanently alter the teeth.
Ask These Questions and More at Northfield Dental Group
Northfield Dental Group boasts several of New Jersey's top cosmetic dentists. With decades of experience, our team has helped many patients to transform their mouths with veneers. If you are considering investing in porcelain veneers, turn to an expert you can trust at our office in West Orange. You can request an appointment online or call (973) 736-0111 today.