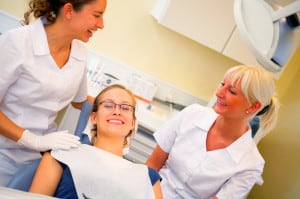 The Oral Cancer Foundation (OCF) has some startling statistics to share. Shockingly, 125 Americans are diagnosed with oral and pharyngeal cancer each day. Even more upsetting is the fact that someone dies every hour of every day from oral cancer, and survivors may suffer facial disfigurement or have trouble eating or speaking due to cancer-related complications.
Now, for the good news — when caught in the early stages, oral cancer is highly treatable. Several of the nation's leading dentistry organizations (including the American Dental Association and the American Association of Oral and Maxillofacial Surgeons) have teamed up with OCF to promote Oral Cancer Awareness Month.
During the month of April, Northfield Dental Group encourages our patients to schedule a screening for oral cancer symptoms. During your screening, our dentists will check the hard and soft tissues of the mouth and neck for signs of oral cancer. We will also review your health history and assess your risk factors.
Oral Cancer Risk Factors
Two known risk factors for oral cancer are alcohol and tobacco use. Individuals that combine alcohol and tobacco use are 15 times more likely to develop oral cancer.
Experts have also found a link between a subset of oral cancers (tonsillar/pharyngeal regions) and the sexually transmitted human papilloma virus. This link may account for the growing number of throat cancers in young, non-smoking adults.
The National Cancer Institute estimates that one in four oral cancer patients have no known risk factors.
Possible Symptoms of Oral Cancer
The following symptoms could be indicative of oral cancer:
Sore on the lip or in the mouth
Red or white patch on the gums, tongue, tonsils or lining of the mouth
Bleeding in the lip or mouth
Loose teeth/ill-fitting dentures
Difficulty chewing, swallowing or moving the tongue/jaw
Swelling of the jaw
Some oral cancer cases have no symptoms at all; this is why our dental team recommends annual visits with a dental professional.
Reduce Your Risk of Oral Cancer
There are a few things you can do to minimize your risk of developing oral cancer. It is absolutely critical to stop smoking and reduce alcohol consumption. It is also important to incorporate fruits and vegetables into your daily diet. And, take measures to protect yourself from harmful UV rays. Wear a powerful sunblock and use lip balm formulated with sunscreen.
To schedule a dental checkup and oral cancer screening with Northfield Dental Group, please call (973) 736-0111 today. If you cannot make it into the office during the month of April, we are happy to offer oral cancer screenings year-round.