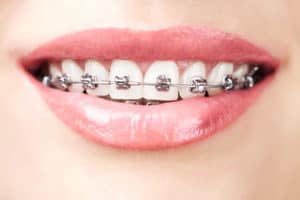 Thanks to the latest advances in orthodontics, patients have more options than ever for straightening their teeth. Invisalign is a modern orthodontic treatment that allows patients to achieve a uniform smile without traditional metal braces. Before selecting Invisalign or braces, it's important to thoroughly evaluate the pros and cons of each treatment option.
Here, Northfield Dental Group shares important details about braces and Invisalign.
Treatment Details
Traditional metal braces consist of wires and brackets that are affixed to the teeth and worn 24/7. The braces apply continuous pressure on the teeth. During the course of treatment, patients will return to the dentist's office so the orthodontist can adjust the wires and ensure that they are applying the amount of pressure needed.
Although braces have long been proven to be effective, many patients are weary of them due to their noticeable appearance. Ceramic braces are preferred by many patients because they use tooth-colored brackets that blend in with the color of natural teeth.
Invisalign uses a series of clear, removable aligners to gradually shift teeth into a straighter and more aligned position. The aligners are fabricated using impressions of your teeth so they fit snugly and securely into the mouth. Each set of aligners is worn for approximately two weeks. They are then exchanged for another set of aligners that will work to move the teeth into the next desired position. Unlike metal braces, Invisalign aligners are inconspicuous in the mouth.
One of the benefits of Invisalign is that the aligners are removable, making eating, drinking and cleaning them easy. Metal braces are not removable so cleaning them is a bit more difficult and time consuming.
Treatment Time
How long you have to wear braces or Invisalign aligners will ultimately depend on the severity of your case. Traditional braces can treat mild to severe orthodontic issues. More severe cases may require patients to wear braces for up to two years. Invisalign is typically used to treat simpler misalignment and orthodontic issues. Patients may need to wear their Invisalign aligners for several months or up to a year.
Learn More about Invisalign and Braces
Choosing an orthodontic treatment is a personal choice that should only be made after consulting with an orthodontic specialist. Northfield Dental Group can meet with you to evaluate your needs and make the right recommendation for treatment.
You can schedule an orthodontic consultation with Northfield Dental Group by calling our West Orange office at (973) 736-0111 today.