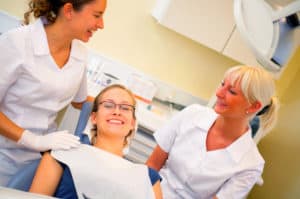 Laser dentistry can be used to perform many dental treatments with added precision. Lasers may be used in conjunction with traditional instruments such as a drill, but the laser may also eliminate the need to use a drill in some cases, which can give patients a more comfortable experience.
The trusted dental team at Northfield Dental Group offers laser dentistry for a variety of different treatments. In this post, our experienced West Orange and Short Hills dentists explain the benefits of using laser dentistry.
Lasers Offer Enhanced Precision
Lasers such as the DENTA CO2 laser can target soft tissues more precisely than traditional methods, and therefore provide several additional benefits to patients. For example, a procedure to remove soft tissue folds or other gum tissue can be performed more accurately using a laser, without impacting the surrounding tissue.
In addition, the precision of the laser may allow for less anesthesia and fewer stitches to be used. Some laser dentistry treatments may not require any stitches at all.
Less Drilling Means More Comfort
Some patients become anxious when a dental drill is being used. Laser dentistry gives these patients a quieter, more comfortable alternative without sacrificing effectiveness or quality.
Soft tissue lasers also generally provide for a faster and less painful recovery. The laser seals blood vessels and nerve endings, allowing many patients to experience a pain-free recovery period after a soft tissue sculpting procedure.
Dental Innovation with Proven Effectiveness
Lasers have been safely used for many different types of dental treatments, and are proven to be both safe and effective. However, like any procedure, the skill and experience of your dentist will be the most important factor in providing a successful treatment and minimizing any complications.
Choose a dentist with experience performing laser dentistry treatments, and feel free to ask questions about the benefits of using a dental laser. If you're curious about receiving a laser dentistry treatment, give it a try and see for yourself what the benefits are of using this gentle and innovation dental technology.
Ask About Laser Dentistry Treatment Options
Our trusted dentists are capable of using laser dentistry whenever it is medically appropriate. If you have questions about using laser dentistry for a specific procedure, call our West Orange office at (973) 736-0111 for more information about our laser dentistry treatment options.