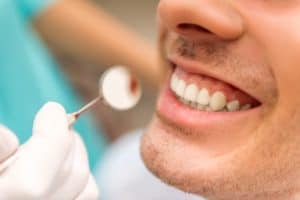 Veneers are one of the most versatile cosmetic treatments offered at Northfield Dental Group. Made of high-quality porcelain, veneers are thin shells that are placed over the front surface of teeth, masking an array of cosmetic imperfections. In the right patients, veneers can correct minor misalignment issues.
Here, our dentists explain whether veneers can replace orthodontics.
What Veneers Can Do
Veneers are used to improve the color, shape and size of individual teeth. They are a great option if you are embarrassed by stained, discolored, chipped, cracked, irregularly small or large teeth. Customized to the unique specifications of each patient, veneers look completely natural once in place.
Veneers also have the ability to improve the uniformity of teeth. They can be used to fill in tiny gaps or improve uneven tooth edges that make teeth appear misaligned or crooked. Correcting these issues can create the appearance of a straighter and more harmonious smile.
What Veneers Cannot Do
Veneers are not considered to be an orthodontic treatment. They do not correct orthodontic or misalignment issues — they only mask them. While they can improve the appearance of slightly crooked or misaligned teeth, they cannot correct severe orthodontic issues such as crowded teeth. Veneers also cannot change the bite or fix problems with the bite (e.g., overbite, underbite, crossbite, malocclusion).
Invisalign: The Clear Alternative to Braces
If you have moderate to severe tooth misalignment or bite problems, a legitimate orthodontic treatment may be best. Traditionally, when people think of orthodontics, they think of metal braces. But thanks to modern dental technology, there is a more discreet and comfortable alternative in Invisalign. The Invisalign system uses a series of clear, removable, custom-made aligners to gradually shift teeth into the desired alignment. The aligners are inconspicuous in design, allowing you to straighten your teeth without compromising your confidence. Treatment with Invisalign varies, but most patients complete treatment in a year or less.
Schedule a Dental Appointment
The only way to determine which treatment option is right for you is to schedule an appointment with a dentist. At Northfield Dental Group, our dentists can guide you through your options and help you choose the best one for you. Contact our West Orange office to speak to a member of our team today.