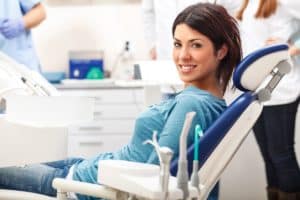 Laser technology is one of the most exciting innovations in dentistry as it enhances safety, precision and comfort during an array of dental treatments. There are two type of lasers used in dentistry: hard tissue lasers and soft tissue lasers. Hard tissue lasers are used to reshape bone and teeth while soft tissue lasers are primarily used to reshape gum tissue.
Read on as Northfield Dental Group discusses the many uses of laser dentistry.
Periodontal Treatment
Soft tissue lasers have revolutionized the way periodontal (gum) disease is managed and treated. At Northfield Dental Group, we use the DENTA CO2 soft tissue laser to kill bacteria and activate the re-growth of soft tissue damaged by periodontal disease. The precision of the DENTA CO2 laser helps preserve more healthy gum tissue compared to traditional periodontal treatments. In some cases, laser gum treatment helps avoid the need for surgery.
Laser Gum Recontouring
Laser gum recontouring can also be used to correct a "gummy smile," which occurs when the upper teeth appear small when smiling due to excessive gum tissue. Traditional gum recontouring uses a dental drill and other manual dental tools to reshape the tissue and balance out the gum-to-tooth ratio. Today, dentists can use a soft tissue laser to gently and precisely reshape gum tissue without touching the surrounding tissue. This minimizes the risk of infection and other complications, and shortens healing time. Following laser gum recontouring, the smile appears more balanced and natural-looking.
Restorative Dentistry
Hard tissue lasers can be used in an array of restorative dentistry procedures. For instance, laser energy can prepare a tooth to receive a filling or other dental restoration by removing decay in the deep structures of the tooth. Hard tissue lasers can also be used to remove bacteria during root canal therapy with enhanced precision and comfort in comparison to manual dental tools.
Teeth Whitening
Laser teeth whitening is a great way to transform your smile in a single dental appointment. During treatment, a bleaching agent is applied to the teeth and activated by a soft tissue laser. The laser helps to maximize the effectiveness of the bleaching gel and accelerate the bleaching process. Results are immediate and noticeable. Depending on the whitening system used, teeth can be lightened between eight to ten shades.
To discuss your dental needs with one of our friendly dentists, please schedule an appointment with Northfield Dental Group. Call (973) 736-0111 today.