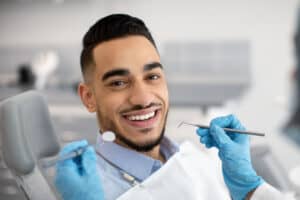 Modern lasers are finely tuned tools; when used in dentistry, they can safely treat a number of common dental concerns. Lasers deliver focused beams of light to reshape, remove, or otherwise treat tissues in the mouth. Patients often praise laser dentistry procedures because of the precision and comfortable experience they provide. Dr. Ivan Stein and Dr. Allan Stein are pleased to offer laser dentistry at Northfield Dental Group; learn more about the benefits below.
Soft Tissue Treatment
Several dental procedures can be completed with the use of specialized lasers targeting soft tissues, such as gum reshaping, which can be performed to treat an uneven gum appearance that makes teeth look too small or boxy. Doing so can eliminate a "gummy smile."
Benefits of Laser Dentistry
Laser dentistry delivers a host of benefits to patients, from convenience to improved oral health. Additional advantages include:
Safety: The safety of laser dentistry has been consistently demonstrated. When patients receive leading-edge dental laser treatments at Northfield Dental Group, they can be assured that our doctors perform each treatment with patient safety and satisfaction prioritized.
Precise treatment: The CO2 laser used by Dr. Ivan Stein and Dr. Allan Stein provides precise treatment, from incisions to excisions. Only the specific soft tissues within the treatment area are targeted, leaving the surrounding tissue untouched.
Quick recovery: Procedures completed with lasers are associated with quick wound healing, allowing patients to experience a faster recovery. This is because the lasers assist in coagulation, which minimizes bleeding at the treatment site and promotes tissue regeneration.
Comfort: Dr. Ivan Stein and Dr. Allan Stein understand that certain dental procedures can act as a source of distress for some patients; fortunately, many laser dentistry procedures are carried out comfortably with minimal or no pain involved. This allows patients to feel more comfortable visiting the dentist and receiving the procedures necessary to keep their smile as healthy as possible.
Reduced risk of infection: The CO2 laser used at Northfield Dental Group effectively creates a sterilized environment, eliminating harmful bacteria near the treatment area. This can significantly reduce the risk of infections and complications.
Maintain Your Oral Health at Northfield Dental Group
The team at Northfield Dental Group is dedicated to providing excellent care using the latest technology and techniques available. Laser dentistry can enhance your experience and make it easier to take care of your oral health. Schedule your consultation by calling our office today.