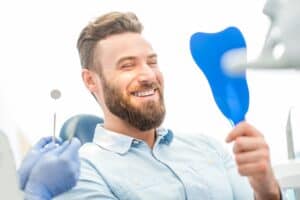 A smile makeover turns a dull smile into a dazzling one! Whether your teeth are stained, worn or misaligned, a smile makeover may be exactly what you need to feel confident and attractive.
Researching any cosmetic dental treatment, including smile makeover, is an important part of being an informed patient. Here, the team at Northfield Dental Group shares facts about smile makeover that may surprise you.
Completely Tailored to Your Individual Needs
Some candidates assume that every smile makeover follows a prescribed formula — but this could not be farther from the truth. Smile makeover is completely customizable according to what you hope to accomplish. There are different cosmetic procedures to address different aesthetic problems. Your dentist will help you understand your options and choose the best course of action.
Adaptable to Your Budget
If you have financial factors to consider, your dentist can also create a plan that accomplishes your goals while fitting within your budget. This could involve taking advantage of healthcare financing plans, staging out procedures over time or looking for cost-effective alternatives (e.g., bonding instead of veneers).
Not Limited to Your Teeth
Your teeth are not the only part of your mouth that may receive attention during a smile makeover. If you have an excessively "gummy" smile or an uneven/asymmetrical gumline, your smile makeover may include gum contouring or other gum procedures.
Technology Allows You to Preview Your Results
You do not need to wait until the end of your treatment to enjoy your big reveal. Imaging technology makes it possible to see what your new smile will look like and adjust your plans or expectations if needed. And if your smile makeover includes veneers, you will wear temporary restorations for a few weeks to test run your new smile and suggest improvements for your permanent veneers.
You May Need to Address Oral Health Issues First
A reputable dentist typically will not recommend cosmetic work if you have ongoing oral health problems. Ignoring cavities or gum disease could impact the results of your makeover.
Prior to your smile makeover, you will undergo a dental exam to identify any problems affecting your teeth or gums. By addressing these issues, you are setting yourself up for smile makeover success.
Contact Us Today
A more beautiful smile will boost your self-confidence and help you feel like the person you were meant to be. To discuss your smile makeover options with the trusted team at Northfield Dental Group, please give us a call or send us an email today.