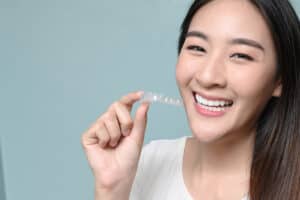 Do-it-yourself (DIY) techniques for house projects and everyday activities can transform a space or make specific tasks easier, but these hacks don't work for dentistry. DIY teeth straightening is a shocking and dangerous trend showing up on social media — and dental chairs when it inevitably goes awry. Children and adults have tried rubber bands, paper clips, fishing line and other objects to fix a crooked or gapped smile at home, often with devastating consequences.
DIY Teeth Straightening Can Cause Irreversible Damage
Orthodontics is a kind of art form. You can't simply force two teeth together to close a gap or straighten one severely crooked tooth as that will throw your entire bite out of alignment. It's a gradual process designed to shift the teeth while allowing the gums and jawbone to adjust to the new placement.
The practices showcased on YouTube videos of people using various household objects to move their teeth can (and often do) lead to tooth loss, tooth fractures and damage to the gums and tooth root. DIY teeth straightening can also lead to new tooth gaps and severe misalignment, making the painful process pointless.
The American Association of Orthodontists found that 13 percent of orthodontists treated patients who attempted DIY teeth straightening, and 70 percent of those patients were between 10 and 34 years old.
You May End Up Paying More for Dental Repair
People interested in DIY teeth straightening believe they will save money by fixing their smile at home without consulting an orthodontist. The dental repair needed to address the damage caused by home methods is much costlier than the average orthodontic treatment such as Invisalign clear braces. You may need a dental implant to restore a lost tooth or restorative dentistry to treat cracks or chips in addition to orthodontics to straighten your smile correctly.
Moving your teeth without an examination can lead to lifelong dental issues, which means DIY teeth straightening will save you neither time nor money.
Straighten Your Teeth Safely and Covertly with Invisalign
Professional orthodontics slowly shift your teeth and manipulate bone growth to ensure you have a straight, evenly-spaced smile with healthy gums and strong bone structure. Orthodontic work is not one size fits all. Our dentists will perform an examination, take X-rays, photos and a bite impression to create a digital image of your teeth and custom plan for a healthy, beautiful smile.
Invisalign clear braces make straightening your teeth a breeze — you don't need to worry about limiting what you eat or unsightly metal brackets. You can fix tooth gaps and crooked teeth without many of your friends and family noticing.
Talk to Our Dentists About Invisalign
Schedule an appointment to discuss your teeth straightening options at Northfield Dental Group. Our dentists will evaluate your oral health, teeth and bite to determine the best and safest way to fix your smile.
Contact our office in West Orange today.