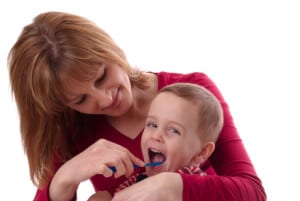 The key to having children practice healthy habits is having them start at an early age. But as a parent, you may have realized this is sometimes easier said than done. You may, for example, have a hard time motivating your children to brush their teeth. This is common, considering many children see brushing as boring or even a chore. If this sounds familiar, Northfield Dental Group can help. Our highly experienced staff have put together a few helpful, fun tips to get your kids excited about brushing and oral hygiene.
Pick Out a Fun Toothbrush
An easy way to get your children motivated about brushing their teeth is having them pick out their own toothbrush. There are plenty of fun, bright colors and cartoon-themed toothbrushes your children can choose from. Make toothpaste fun as well by having your children select their favorite toothpaste flavor and floss in a color they like.
Turn Brushing Into a Song or Story
Singing a song or creating a story can make routine activities such as brushing fun and exciting. Try creating an original song with your child or find a pre-existing one on the Internet. Creating a story where the toothbrush is the "good guy" can keep your child entertained and motivated while brushing.
Reward Good Oral Hygiene
Just like with homework, kids sometimes need a little incentive or encouragement to brush their teeth. Try creating a rewards chart where your children can monitor their brushing and earn rewards. Possible rewards include a new toothbrush, or taking your children to watch a new movie they're excited to see. Don't forget to praise your children for their good hygiene efforts!
Brush Your Teeth Together
Children learn by example, so seeing you brush and floss twice a day can influence your kids to practice good hygiene habits. Set a routine time in the morning and night to brush your teeth to make brushing a regular habit. Once that time comes, your child is more likely to remember to brush their teeth.
Try a Smartphone App
We live in a time when children are excited to try new and exciting smartphone apps, so use that to your advantage! There are several dental smartphone apps designed to make brushing fun for children. Colgate Tooth Fairy gets kids excited about brushing, flossing and even visiting the dentist! Tiny Dentist is another game app that educates children about oral hygiene.
Schedule a Dental Exam with Northfield Dental Group
Good dental hygiene doesn't stop at brushing. It's recommended both children and adults visit a dentist twice a year for routine cleanup and checkup. To schedule a dental exam for you or your children, contact the friendly team at Northfield Dental Group by calling (973) 736-0111.