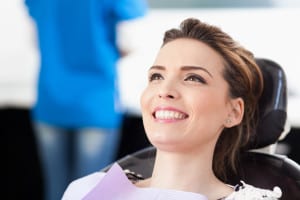 It can be a daunting task to find a dentist for you and your family. You may ask friends and family for recommendations, or just blindly choose one from your insurance list of dental providers. There is a better way, however, and the dentists at Northfield Dental Group are here to share it with you. Here are a few questions to ask yourself while considering whether a dentist is the right one for you.
What are the Dentist's Qualifications?
You can find the answer to this question by asking your dentist directly or looking at his website, or by checking with the local dental society or your insurance carrier. A dentist needs a DDS or DMD degree from an ADA-accredited university dental program as well as a state license in order to practice dentistry in that state. Other certifications and licenses are good to have, though not a requirement.
You can also check the lists of major dental organizations, like the American Academy of Esthetic Dentistry (AAED) and similar, for evidence that the dentist is a member; this is not a credential, nor is it needed in order to practice dentistry, but it is evidence that the dentist upholds the highest standards in patient care.
Do Their Services Meet Your and Your Family's Dental Needs?
Choosing an accredited, highly-regarded dentist is only one part of the equation. You also need to make sure that your dentist can perform the dental procedures needed for both you and your family. For example, are you looking for general dentistry? Would you also like your dentist to have an oral healthcare educational program for your children, teaching them the importance of brushing and flossing, and hands-on instructions on how to do so? Maybe you're looking for cosmetic procedures, like teeth whitening, veneers and the like. Or possibly you're looking for a dentist who uses practices that are important to you—such as holistic dentistry using biocompatible dental materials? Make a list of all of the services that are (or possibly will be in the future) important for you and your family and use this list during your research.
Northfield Dental Group offers general dentistry, cosmetic dentistry, holistic dentistry and oral care and education for children.
Are They Up to Date on the Latest Advancements?
The latest advancements in dental care are used not only because they are the most effective diagnostic tools but also to make the patient more comfortable and the exam or procedure less time-consuming. At Northfield Dental Group, we use the DENTA carbon dioxide laser, a state-of-the-art, drill-less laser alternative to more invasive dental procedures. This treatment results in minimal damage to the soft tissue of the mouth while targeting with precision the treatment area. The dentist uses the laser for incision and excision of the tooth during oral surgery, as well as to kill bacteria and help to prevent infection from developing in the mouth as a result of surgery. Our laser dental treatment option causes less bleeding, which results in a shorter, more comfortable post-operative recovery period. Ask Dr. Stein or one of the other dentists at Northfield Dental Group if you can use the laser treatment option as an alternative to drilling for your dental procedure.
Talk to a Dentist at Northfield Dental Group
Wondering how the dentists at Northfield Dental Group stack up to this list? All of our doctors have a DMD or DDS degree from an accredited school and use the latest in dental technology in their everyday practice at Northfield Dental Group. To find out more about the many services we offer for both you and your family, call to schedule an appointment with one of our highly trained dentists by calling us at (973) 736-0111.