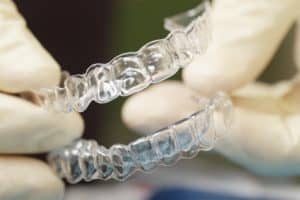 In the past, the only way to straighten teeth was through metal braces. Although effective, braces have been considered by many to be bulky and unattractive. Now, patients can achieve a beautiful, uniform smile more comfortably and inconspicuously than ever before. Invisalign is a cosmetic dentistry treatment that uses clear aligners to straighten teeth. In this blog post, the trusted dentists at Northfield Dental Group answer five of the most frequently asked questions regarding the treatment. 
How Does Invisalign Straighten Teeth?
Invisalign uses clear aligners made of biocompatible material to gradually shift teeth into place. The aligners are custom-made to fit the unique specifications of your mouth and teeth. You will receive a new set of aligners each week that will slowly move your teeth closer to the desired position. The aligners are worn over the teeth (similar to a mouth guard) and should be in place for at least 20 to 22 hours a day. They should only be taken out before eating, before brushing teeth, and when you want to clean the aligners.
Is the Treatment Painful?
You may feel some mild discomfort when you first put in a new set of aligners. Some patients notice a little bit of pressure as the aligners shift the teeth toward the proper position. This should go away after a few days of wearing the aligners.
How Long Does Treatment Last?
Invisalign is a highly individualized treatment. The treatment can take anywhere from a few months to a year and a half, depending on the severity of your misalignment. Our team can give you an estimated timeline of your treatment after a thorough evaluation.
Why Should I Choose Invisalign Over Braces?
Invisalign has many benefits over braces. The Invisalign aligners are clear, making them nearly invisible to the naked eye. This allows you to straighten your teeth confidently without worrying about appearance. Secondly, the aligners are removable, making eating and brushing teeth easier than it is with braces.
How Can I Pay for My Invisalign Treatment?
Depending on your insurance, your plan may cover all or a portion of your Invisalign treatment. Northfield Dental Group also offers affordable and flexible financing options to help pay for your treatment.
To learn more about Invisalign, please call Northfield Dental Group at (973) 736-0111.