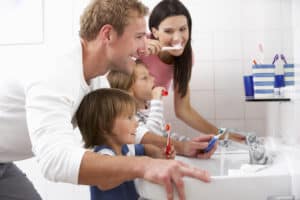 Good oral health care starts at an early age — earlier than what some people may think. As a parent, it is important to be proactive with regard to your child's oral health so that their teeth and smile remain healthy and beautiful for as long as possible. In this blog post, the friendly team at Northfield Dental Group shares five dental health tips all parents should know.
Cleaning Your Baby's Teeth and Gums
Proper oral health care starts even before your baby's teeth come in. You should begin cleaning your baby's gums within the first few days after they are born. Use a clean, moist gauze pad or washcloth to gently wipe the gums. Brushing should start when your baby's first tooth starts to grow in. Use no more than a smear of fluoride toothpaste to brush your baby's teeth twice a day.
Your Child's First Dental Visit
Your child's first dental visit should take place after the first tooth appears (typically around 6 months of age) but no later than their first birthday. This is because your child's baby teeth are at risk for decay and cavities as soon as they first appear. The first dental visit is also an opportunity for your dentist to check that your child's teeth, mouth and jaw are developing properly.
Lead by Example
Seeing you brush your teeth twice a day and floss at least once a day can influence your child to practice good oral hygiene. Try setting a routine in the morning and night time to make brushing a regular habit. Children and adults should brush their teeth twice a day for two minutes. If it helps, play a song for two minutes to make the experience more entertaining for your child. Anything you do to get your kids excited about brushing will go far to instill a lifetime of good oral hygiene habits.
Routine Checkups are Key
According to the American Academy of Pediatric Dentistry (AAPD), students miss more than 51 million school hours per year because of dental problems or related conditions. Like adults, children should visit the dentist for a routine cleaning and checkup at least every six months. If your child is experiencing dental issues such as tooth sensitivity or pain in the jaw and mouth, schedule an appointment with our team right away so we can handle the issue promptly.
Consider Dental Sealants
Dental sealants are thin, clear composite coatings placed in the pits and grooves of children's back teeth to prevent tooth decay. Sealants protect the teeth by keeping food particles and bacteria out of the grooves of the tooth surfaces. A painless and quick treatment, dental sealants are an easy and inexpensive means of cavity prevention. The best time to apply sealants is just after permanent molars have grown in (typically around age 12). With good oral hygiene, sealants can last for about 10 years or more.
To schedule a dental appointment for your child, please contact our team at Northfield Dental Group. Call (973) 736-0111 today.