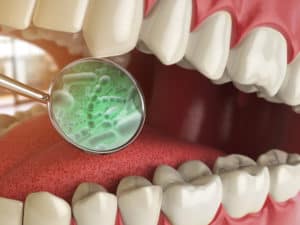 At Northfield Dental Group, our dentists and entire staff are committed to educating our patients with the most up-to-date information on oral health. Having treated hundreds of patients in West Orange and the surrounding area, we're aware that there are a lot of misconceptions regarding gum disease. Unfortunately, these myths often stand in the way of patients getting the dental care they need.
Here, Northfield Dental Group shares the truth regarding the most common myths about gum disease.
Gum Disease Is Rare
Gum disease is very common. The Centers for Disease Control and Prevention estimate that half of all adults age 30 and older have some form of gum disease — and many are unaware that they have the disease.
Symptoms of Gum Disease Are Obvious
Just because your teeth and gums look and feel healthy, doesn't mean they are. The reason why so many people don't know they have gum disease is because it usually begins with few or even no symptoms. Whether you are experiencing symptoms or not, it is important you visit your dentist for regular checkups at least twice a year. If gum disease (or another dental problem) is detected, it can be treated immediately.
Gum Disease Only Affects Your Oral Health
This could not be further from the truth. Gum disease is caused by oral bacteria that, if left untreated, can spread to other parts of the body and lead to serious health complications. Numerous studies have found that gum disease increases the risk of certain health conditions, including heart disease, diabetes, Alzheimer's disease, and certain cancers.
Gum Disease Is Irreversible
Gum disease is reversible in its earliest stage: gingivitis. Good oral hygiene (regular brushing and flossing) at home and regular dental checkups with our team may be all that are needed to treat gingivitis. If left untreated, gingivitis can turn into more serious forms of gum disease. More advanced stages of gum disease are harder to treat and may lead to tooth loss.
Treatment for Gum Disease Is Extensive and Painful
When many people think of gum disease treatment, they think of invasive surgery that often requires a long and painful recovery. However, early stages of gum disease can be treated with professional cleanings and regular brushing and flossing. If these cleanings are not enough, scaling and root planing may be needed. This minimally invasive treatment involves cleaning below the gum line to remove tartar and plaque from the gum pockets.
While gum surgery may be necessary to treat severe stages of gum disease, other options are available. Northfield Dental Group offers laser gum therapy to precisely target and vaporize infected gum tissue without damaging the surrounding tissue. This means less pain and discomfort during and after treatment, as well as faster healing.
Northfield Dental Group will work with you to find the best treatment plan for your specific oral health needs. To schedule an appointment with our team, please call (973) 736-0111.