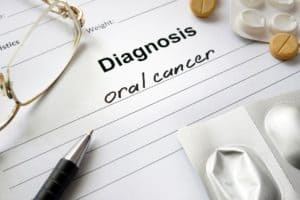 April is Oral Cancer Awareness Month, and dental organizations and dentists all over the nation are participating in the campaign by educating patients about the symptoms and risk factors of oral cancer. They are also spreading awareness about the importance of oral cancer screenings.
Northfield Dental Group is fully committed to this cause. They invite you to learn more about oral cancer and screenings in this blog post.
Risk Factors for Oral Cancer
According to the American Cancer Society, approximately 51,540 people will be diagnosed with oral or throat cancer this year. The following factors may increase your risk of developing the disease:
Tobacco use (e.g., cigarettes, cigars, chewing tobacco)
Heavy alcohol consumption
Unprotected sun exposure
Human papillomavirus (HPV) infection
In addition, research shows that men are twice as likely to develop oral cancer as women. Individuals age 55 and older also have a greater risk of developing the disease.
Common Symptoms of Oral Cancer
Oral cancer can develop on the mouth, lips, tongue, gums, salivary glands and throat. Common symptoms include the following:
Bleeding in the gums, cheeks or tongue
Numbness or tenderness in the mouth
Mouth or throat pain
Lump in the neck or soft tissue of the mouth
Difficulty chewing or swallowing
Loose teeth not caused by dental diseases (e.g., gum disease, decay)
Red or white patches/lesions in the mouth or lips
Hoarseness or change in voice
Ear pain
Jaw swelling
Weight loss
Mouth sore(s) that do not go away after a few weeks
Why Oral Cancer Screenings are Important
Keep in mind that some early stages of oral cancer may not have any symptoms. Therefore, a screening by a dentist is critical to detecting oral cancer. In addition, the disease may be easier to treat when detected early.
Oral cancer screenings take place during a regular dental checkup and should be performed every six months. During the screening, the dentist checks for changes on the head, face, neck, tongue, throat and jaw. If an abnormality is detected, the dentist will take a small biopsy so it can be analyzed for clinical diagnosis.
Contact Us Today
Northfield Dental Group looks forward to being your partner in dental and overall health. To schedule an oral cancer screening for you and your family, please call Northfield Dental Group at (973) 736-0111 or email us today.