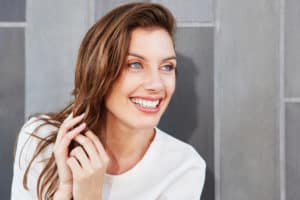 A smile makeover can do more than improve the appearance of your teeth — it can give you more confidence and higher self-esteem. When you're self-conscious about crooked or stained teeth, you hesitate to smile or laugh. By getting a customized treatment plan from a cosmetic dentist, you can change how you feel about showing off your teeth, and your friends and family will notice the difference as well.
The trusted team at Northfield Dental Group understands that every patient requires an individualized plan for achieving the perfect smile. In this post, our experienced West Orange and Short Hills cosmetic dentists discuss some of the signs that you are in need of a smile makeover.
Discolored Teeth Are Stopping You from Smiling
Do you keep your lips closed when posing for pictures? Many people feel uncomfortable smiling because they have stains on their teeth from coffee, tea, red wine, or smoking. These discolorations add up over the years and give your teeth a dull or dingy appearance.
An in-office teeth whitening treatment can remove the appearance of stains and give you a lighter, brighter smile. Many patients are shocked at how much better they feel about smiling after getting this treatment! In just one hour you can completely change how you feel about your smile, and you'll look forward to showing off your teeth in pictures again.
Gaps Are Interrupting Your Smile
Cracks, chips, or gaps between your teeth can distract from your smile's overall appearance. Even if you take good care of your teeth, you may continue focusing on these tiny flaws that take away attention from your smile.
Porcelain veneers can be an effective solution for covering cracks, chips, gaps, or crooked teeth. These veneers are custom-made to match your teeth and can be used to address a variety of cosmetic concerns. Straight edges give your teeth an ideal appearance that makes your smile look fantastic.
Alignment Problems Are Hurting Your Smile
Many patients are unwilling to deal with the hassle and appearance of metal braces, but still want to do something to straighten their misaligned teeth. Fortunately, Invisalign offers the best of both worlds — a teeth-straightening system that is nearly invisible.
Invisalign retainers can be removed when you brush, floss or eat. They are a more convenient and comfortable way to correct misaligned or crooked teeth, and they don't detract from your appearance the way that metal braces do.
Get a Customized Smile Makeover Plan
Every patient has a unique smile, so every smile makeover plan has to be custom-designed. Our West Orange and Short Hills cosmetic dentists can develop a treatment plan built just for you. To schedule an appointment to make over your smile, please contact the Northfield Dental Group staff by calling (973) 736-0111.