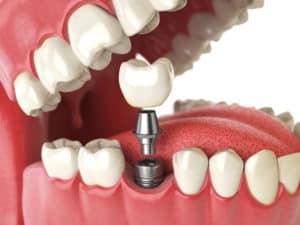 Dental implants can be used to replace teeth lost due to injury, tooth decay, or gum disease, but many patients want to know just how long a dental implant will last. While dental implants can last a lifetime, a variety of factors can influence the longevity of your dental implants.
The trusted team at Northfield Dental Group advises patients to care for implants just as you would care for your natural teeth. In this post, our West Orange and Short Hills dentists discuss how to make your dental implants last as long as possible.
Start with Good Dental Hygiene
Dental implants need to be cared for just like natural teeth. Brushing twice a day using proper technique, flossing, and seeing your dentist at least twice a year will all make it more likely that your dental implants will last for a long time.
Patients who care for their dental implants may have them for a lifetime or at least several decades, so make sure you are practicing good dental habits to get the most out of your dental implants.
Dental Implants vs. Crowns
The dental implant is a synthetic tooth root that is implanted into your jaw to replace your natural tooth root. A porcelain crown is then placed on top of the dental implant. Dentures or a dental bridge can also be placed on top of the implant.
The implant generally has a longer lifespan than your crown. However, porcelain crowns also require proper care, so you can maximize how long both your crowns and dental implants last by implementing good dental habits.
Factors That Affect How Long Your Dental Implants Will Last
Some dental implants last longer than others, even if they are properly taken care of. The following factors can affect how long your dental implants last:
How experienced your dentist is using dental implants
Whether you have gum disease or other issues that will damage both your natural teeth and your dental implants
How you care for your dental implants
Other factors that can impact your dental health, such as your diet and overall health
Because many different factors contribute to the longevity of your dental implants, how long they last will vary from patient to patient. However, choosing the right dentist and taking care of your teeth and overall health can go a long way to keeping your dental implants as long as you possibly can.
Learn More about Dental Implants
Good candidates for dental implants have missing teeth or loose dentures that cause either functional or cosmetic issues. The experienced dental team at Northfield Dental Group can answer all of your questions about properly caring for your dental implants. Schedule your appointment today by calling (973) 736-0111.
About Our Northfield Dental Group Dentists
Our dentists are respected authorities in the field of dentistry, each bringing a unique perspective and skillset to our practice. Dr. Stein is a recognized innovator in neuromuscular and cosmetic dentistry. In the field of cosmetic dentistry, Dr. Stein was the first dentist in Essex County to introduce immediate dental implant prosthetics. For the past decade, Dr. Widmayer has been perfecting the art of cosmetic and reconstructive dentistry. Dr. Widmayer has been honored for his work by several professional organizations, including the American Academy of Aesthetic Dentistry and the International Congress of Oral Implantologists. Dr. Mendia completed a post-doctoral residency in dental anesthesiology at the University of Pittsburgh School of Dental Medicine, one of only six highly specialized dental anesthesiology programs. Dr. Mendia's specialized training includes all levels of anesthesia services. Dr. Shapiro is committed to helping patients maintain their healthy smiles by using the most advanced dental technology and techniques available.