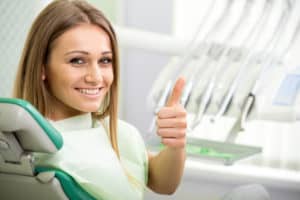 At Northfield Dental, we believe that the more educated and informed our patients are, the better choices they can make regarding their oral health. To better serve you and your family, in this blog post we answer the most frequently asked questions we hear from our patients about going to the cosmetic dentist in West Orange & Short Hills.
Should I See the Dentist Even If I Don't Have Any Symptoms?
Many dental issues show little, if any, early symptoms. Routine dental exams are important in detecting dental problems early on and preventing them from becoming serious. It is also important to see your dentist regularly if you have had any previous dental work done. During your routine checkup, your dentist will evaluate your mouth to ensure that your fillings, dental crowns, implants or other dental restorations are functioning properly. The American Dental Association recommends children and adults get a routine checkup every six months.
What Can I Expect During a Regular Dental Exam?
During your regular dental exam, your dentist will ask you about your dental health history. Because oral health is linked to overall health, your dentist will also evaluate your medical history. He or she will examine your mouth and may choose to decide to take X-rays to take a closer look at your gums and teeth. An oral cancer screening will also be performed. These screenings are short and painless; your dentist will examine your mouth, jaw and neck for any symptoms.
Will My Dental Procedure Hurt?
At Northfield Dental, we use the most up-to-date and advanced technology and methods to ensure your procedure is a comfortable one. We provide different forms of anesthesia to cater to the specific needs of each patient. We also offer sedation dentistry methods, including oral sedation, to put anxious patients at ease during their procedure. If you are anxious or nervous about your upcoming dental procedure, please speak to us today about your anesthesia and sedation dentistry options.
Will My Dental Procedure be Covered by Insurance?
Whether or not your dental procedure is covered by your insurance will depend on your specific procedure and the specifics of your insurance plan. Most dental insurance plans cover the complete costs of routine dental exams and cleanings, and may cover all or a portion of restorative procedures like dental crowns. Cosmetic dentistry treatments (procedures performed solely to improve the aesthetics of a smile) like teeth whitening and porcelain veneers are not covered by insurance. We recommend finding out the specifics of your insurance plan before undergoing treatment. Our team is also available to go over your plan with you and answer all of your questions.
If you have more questions about going to the dentist or your oral health, please contact Northfield Dental Group at (973) 736-0111.
About Our Northfield Dental Group Dentists
Our dentists are respected authorities in the field of dentistry, each bringing a unique perspective and skillset to our practice. Dr. Stein is a recognized innovator in neuromuscular and cosmetic dentistry. In the field of cosmetic dentistry, Dr. Stein was the first dentist in Essex County to introduce immediate dental implant prosthetics. For the past decade, Dr. Widmayer has been perfecting the art of cosmetic and reconstructive dentistry. Dr. Widmayer has been honored for his work by several professional organizations, including the American Academy of Aesthetic Dentistry and the International Congress of Oral Implantologists. Dr. Mendia completed a post-doctoral residency in dental anesthesiology at the University of Pittsburgh School of Dental Medicine, one of only six highly specialized dental anesthesiology programs. Dr. Mendia's specialized training includes all levels of anesthesia services. Dr. Shapiro is committed to helping patients maintain their healthy smiles by using the most advanced dental technology and techniques available.