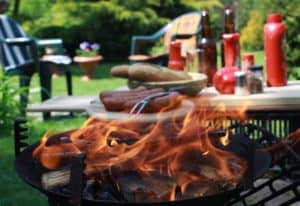 Are you looking for delicious summer treats that won't hurt your smile? Not to worry. Northfield Dental Group is here to help! Here are our favorite teeth-friendly snacks that you and your family can enjoy all summer long.
Watermelon Pizza
Who doesn't like pizza? This summer party favorite is a great way to ensure your child gets their daily serving of fruit. Watermelon is a natural tooth cleanser as its high water content helps rid the mouth of harmful acids and bacteria.
Slice the watermelon into 1-inch round slices.
Spread low-fat yogurt onto the watermelon.
Sprinkle kiwi bits, blueberries and strawberries on top.
Cut the watermelon into six slices and enjoy!
Ants on a Log
Like watermelon, celery stimulates saliva production and helps keep the mouth clean. And while raisins still contain sugar, they are by far a healthier option than candy.
Cut the celery stalks in half.
Spread peanut butter, low-fat cream cheese or hummus on the celery.
Sprinkle raisins (or apples or carrots if you use cream cheese or hummus) on top of the celery stalk and serve.
Fruit Parfaits
High in calcium, yogurt can help strengthen tooth enamel and reduce your risk of decay.
Pour a few spoonfuls of Greek yogurt into the bottom of a tall glass.
Sprinkle a layer of granola or almonds on top
Top the parfait with a layer of strawberries and blueberries.
Oral Health Tips for the Summer
Drink Water In Between Snacks
Rinsing your mouth with water cleanses the mouth of food debris and bacteria, thus reducing your risk of plaque and cavities.
Use a Straw
Research shows drinking from a straw can help limit your teeth and gums' exposure to acids and sugars. The next time you plan a summer soiree, be sure to have bright and festive straws on hand for guests.
Prevent Dental Emergencies
Summer isn't complete without swimming, bike riding and other outdoor sports. Unfortunately, these fun activities can lead to serious (and costly!) dental injuries. If you or your child plan on playing contact sports this summer, do so while wearing a mouth guard. Running around slippery pool areas or jumping into shallow waters can result in trauma to the jaw, mouth and teeth. Be sure to go over basic pool rules with your child and never leave them unattended by the pool. Have your dentist's phone number on hand as well!
Schedule a Dental Appointment Now
Now that school is out for the summer, there is no excuse for not scheduling a dental checkup for your child, should they need one. Both children and adults should visit the dentist for a routine exam and cleaning every six months. Many dental issues can be prevented, so it's wise to be proactive with your and your family's oral health!
For more oral health tips, please contact Northfield Dental Group at (973) 736-0111.