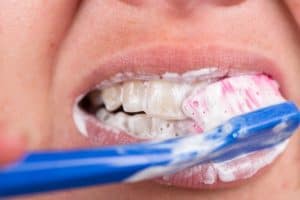 In addition to visiting the dentist regularly, brushing your teeth twice a day is the best way to prevent cavities and gum disease. Although daily brushing and flossing are important, many dentists agree that the technique of your brushing can make the real difference. Unfortunately, most people miss areas of the teeth that are major reservoirs of bacteria. By identifying these areas, you're one step closer to reducing your risk of cavities and gum disease now and in the future. Our team at Northfield Dental Group is dedicated to helping each patient understand the importance of regular brushing and flossing. In this post, our West Orange dentists discuss some common brushing mistakes and tips to help you improve your brushing game.
The One Area Most People Don't Brush
Most people brush only the tooth surfaces that show when they smile. This means that they miss the sides of the teeth that face the tongue as well as the sides that face the palate. If you don't brush all areas of the teeth, the unfortunate result is a buildup of acid, plaque and tartar. Next time you brush your teeth, be sure to reach all areas of the tooth surface. To reach the inside of the tooth surfaces that face the tongue, angle your toothbrush 45 degrees at the gum line when brushing.
Additional Tips
We're often in a hurry when we brush our teeth and don't give ourselves enough time to ensure a deep and thorough cleaning of the teeth and gums. Generally, you should brush your teeth for a total of two minutes, allotting 30 seconds for brushing the outside of the teeth and another 30 seconds for brushing the inside of the teeth.
Also, make sure you're not brushing too hard, as unnecessary pressure can damage the gum tissue. Too little pressure can also result in inadequate removal of bacteria and plaque. As a rule of thumb, use short strokes with gentle yet firm pressure, without bending the bristles of the toothbrush. Be gentle and repetitive — don't scrub!
Don't Forget Flossing
Taking the time to floss after you brush your teeth takes serious commitment. However, the time investment now will save you money in future cavity and/or gum disease treatments later on. Plus, flossing after brushing allows you to remove plaque and food debris between the teeth and other areas where the toothbrush can't reach.
Contact Northfield Dental Group
The health of your mouth is important to us. At Northfield Dental Group, our West Orange dentists are here to help you learn more about how you can protect your teeth and gums, and we can build a custom treatment plan based on your dental needs and goals. To schedule an appointment and speak with one of our team members about your needs, please contact the Northfield Dental Group staff by calling (973) 736-0111.