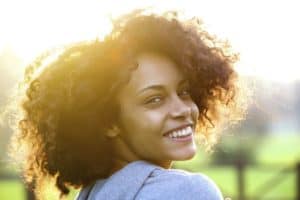 A smile is considered too "gummy" when the amount of gum tissue overshadows the appearance of teeth when one smiles. This often makes the upper teeth appear too short in comparison to the gum tissue being displayed. If a gummy smile makes you self-conscious when smiling, laughing or speaking, laser gum recontouring with Northfield Dental Group can help.
Learn more about the procedure in this blog post.
How Laser Gum Recontouring Improves a Gummy Smile
Laser gum recontouring is an in-office procedure that removes and reshapes gum tissue to create a more harmonious and aesthetically pleasing smile. Traditionally, gum recontouring involved using manual scalpel instruments to reshape the gum line. In laser gum recontouring, the manual instruments are replaced with a soft tissue laser, which allows the dentist to perform the procedure quickly and gently. Laser gum recontouring offers a number of benefits over traditional gum recontouring, including:
Faster and more comfortable treatment
Enhanced precision (leaves surrounding tissue untouched)
Seals and sterilizes treatment areas for reduced risk of infection and faster healing
No need for sutures
Little to no downtime
Immediate results
Before treatment, the dentist will apply a local anesthetic to the gums. The soft tissue laser will gently and precisely remove and recontour excess gum tissue, which will make the teeth appear longer. Once the desired tooth-to-gum ratio is reached, the procedure is complete. Results can be seen immediately after treatment.
Your Laser Gum Recontouring Consultation
Successful laser recontouring treatment requires careful planning. During your initial consultation, you will meet with one of our dentists to discuss your concerns and the results you would like to achieve with laser gum recontouring. The dentist will carefully examine your teeth and gums, paying close attention to the tooth-to-gum ratio. Generally, a smile is considered to be too gummy if more than two millimeters of gum tissue is visible when you smile. The dentist will advise on how much gum tissue should be removed to achieve the most proportionate smile. Your oral health will also be reviewed, to ensure there is no dental issue present that may compromise results.
To learn more about improving a gummy smile with laser gum recontouring, please schedule a personal consultation with one of our West Orange dentists. Please call Northfield Dental Group by calling (973) 736-0111 today.