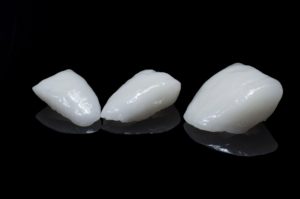 Are cosmetic imperfections holding you back from showing off your smile? If so, Northfield Dental Group may have the perfect solution for you: porcelain veneers. Made of high-quality porcelain, veneers are thin shells that are slipped over the front surface of teeth to mask an array of cosmetic flaws. If you wish to transform your smile, continue reading to find out how porcelain veneers can help.
Conceal Chips and Cracks
Cracks and chips on teeth that are not causing any oral health issues can be easily concealed with porcelain veneers. In addition to covering up chips and cracks, veneers also protect your teeth and prevent the damage from spreading.
Fill in Gaps
Small yet noticeable gaps can be closed with veneers. Custom-made to match the surrounding teeth, veneers will slip over your teeth and cover gaps for a natural and flawless result.
Cover Stubborn Stains and Discoloration
Porcelain veneers are also a great option for individuals with stains and discoloration don't respond to teeth whitening. Veneers mask noticeable stains and discoloration for an instantly whiter and more radiant smile. Before crafting your veneers, our team will use a shading guide to select an aesthetically pleasing color that matches your surrounding teeth.
Improve Irregularly Shaped and Sized Teeth
Teeth that are unevenly shaped or sized can create the appearance of a crooked smile. Veneers can be molded to the desired shape and size to create a more proportionate and balanced smile.
Rejuvenate Worn Teeth
It's normal for teeth to become worn down over time. The natural erosion of tooth enamel or chronic grinding and clenching of teeth can cause teeth to appear unattractive, worn or dull. Thanks to their translucent quality, porcelain veneers can restore a radiant and beautiful appearance to teeth.
Contact Northfield Dental Group Today
Porcelain veneers can be placed as a standalone procedure or part of a multi-step cosmetic treatment called smile makeover. Let Northfield Dental Group help you select the best treatment for your cosmetic needs and goals. To schedule a personal consultation with a member of our team, please call (973) 736-0111 or send us an email today.