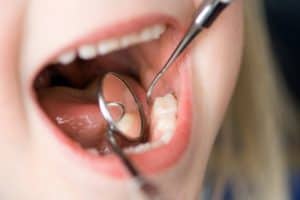 Having the right knowledge and information about oral health can enable you to take better care of your teeth and gums. Conversely, the wrong information can lead to poor oral health decisions. At Northfield Dental Group, our team of top West Orange dentists understand that misconceptions and myths on oral health abound and can prevent individuals from seeking the dental care they need. Here, our dentists reveal the truth on common oral health myths.
Dental Issues Always Exhibit Symptoms
Many dental issues begin with no visible symptoms. This is why routine dental checkups with your dentist are important. Your dentist can thoroughly examine your teeth and gums for any underlying dental issue. Early detection and treatment can help prevent dental issues from worsening.
Get Older, Lose a Tooth
Many people believe that tooth loss is a normal part of aging. In reality, tooth loss can occur at any age as a result of trauma, infection and poor oral hygiene. By practicing good oral hygiene (i.e., regular brushing, flossing and dental checkups), you maximize your chances of enjoying your natural teeth for a lifetime.
Braces Are Just for Kids
If you think you're past the age of getting braces, think again. More adults are opting to straighten their teeth with orthodontics. What's more, there are several modern teeth alignment systems that allow patients to achieve a more uniform smile without the time commitment, discomfort and noticeability of traditional braces. Invisalign is one such treatment system that uses a series of clear, nearly invisible alignment trays to gradually shift teeth into position. Treatment time with Invisalign varies, but most patients are required to wear their aligners for approximately one year.
Oral Hygiene Only Affects Your Mouth
Research has shown that oral health is closely linked to overall health. Individuals with gum disease have an increased risk of developing certain health conditions, including heart disease, diabetes and stroke. In other words, a healthier mouth can lead to a healthier body.
To discuss your oral health concerns and goals with one of our dentists, schedule a personal appointment with Northfield Dental Group. Please contact our West Orange practice by calling (973) 736-0111 or sending us an email today.