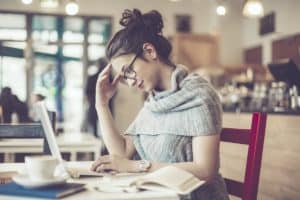 According to a survey conducted by the American Dental Association's Health Policy Institute, millennials (adults between the ages of 18 to 34), are most likely to report having problems due to the condition of their mouth and teeth. These dental issues are so widespread that 38 percent of millennials say that life in general is less satisfying as a result.
At Northfield Dental Group, we believe everyone deserves a happy and healthy smile. Here, we explain common dental concerns among millennials and how our West Orange dentists can treat them.
Gum Disease
The Centers for Disease Control and Prevention report that half of all American adults have some form of gum disease. Many adults, including millennials, are not aware that they have gum disease, and because they do not experience any pain or other early symptoms, they may opt to forego routine dental exams. Unfortunately, doing so can lead to serious damage caused by advanced stages of gum disease.
Early stages can be treated with proper oral hygiene (i.e., at-home brushing and flossing, and professional dental cleanings), while more advanced cases may require more in-depth cleaning with scaling and root planing. If you are in need of periodontal care, our dentists will tailor treatment based on your unique needs.
TMJ Disorder
It's not uncommon for millennials who are stressed by financial, career or personal issues to grind their teeth or clench their jaw. Chronic grinding and clenching is a common cause of TMJ disorder. Research reveals that more young adults are seeking treatment for TMJ disorder than ever before. Common symptoms of TMJ disorder include jaw pain, locked jaw, a misaligned bite, difficulty chewing, toothaches and headaches.
Treatment for TMJ disorder varies depending on the cause and severity of the condition, but may include oral appliance therapy or surgery.
Crooked Teeth
Undoubtedly one of the most common aesthetic concerns among millennials is crooked teeth. Not only are they embarrassed by misaligned teeth, but many are hesitant to straighten their smile with traditional orthodontics. Fortunately, a more discreet and comfortable alternative exists in Invisalign. Treatment with Invisalign involves wearing a series of clear and removable alignment trays that slowly shift teeth into a straighter position. Millennials love Invisalign because it allows them to get a straighter smile without bulky and conspicuous metal braces.
Yellow or Stained Teeth
Anything less than a white and radiant smile can make millennials self-conscious, so much so that it affects their daily lives, including their desire to pursue romantic and professional opportunities.
Teeth whitening is a quick and highly effective solution for a dull or yellow smile. At Northfield Dental Group, we offer professionally supervised in-office teeth whitening with Zoom! Treatment with Zoom! involves applying a bleaching agent to the teeth, which works to break down stains immediately. With in-office teeth whitening, millennials can achieve a more beautiful smile that is up to eight shades lighter in as little as an hour!
Paying for Your Dental Treatment
Northfield Dental Groups understands that paying for dental care is a common concern among millennials. We offer convenient financing with CareCredit, so patients can pay for their dental treatment via monthly, low-cost payments. Visit our financing page to learn more.
To discuss your dental concerns with one of our top West Orange dentists, please schedule a consultation. Contact Northfield Dental Group by calling (973) 736-0111 or emailing our office today.